From Kiran Khalid
For CNN





NEW YORK (CNN) -- Four men accused of plotting to bomb two New York City synagogues and fire a surface-to-air missile at a military plane on May 20 were caught on tape at virtually every turn of the plot, according to a federal prosecutor.
James Cromitie, 44; David Williams, 28; Onta Williams, 32; and Laguerre Payen, 27 sat quietly in a federal courtroom in White Plains, New York, Friday as Assistant U.S. Attorney Eric Snyder detailed the contents of what he called "voluminous records" of a conspiracy the government says began in June of last year.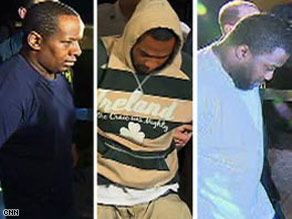 Three of the four suspects after their arrest: (From left) James Cromitie, David Williams and Onta Williams.
The defendants were charged Tuesday with conspiracy to use weapons of mass destruction within the United States, conspiracy to acquire and use antiaircraft missiles and six other counts. They face a maximum penalty of life in prison.
The government has 45 DVDs, Snyder said, each with one to two hours of video showing the defendants plotting and putting their plan into motion, from conception to execution.
He said the government also has video from a plane that used a high-power lens from 5,000 feet in the air to record the defendants placing the bombs -- which were actually duds -- in front of the target locations. In addition, the prosecution said it has video surveillance from a helicopter and stationary cameras outside the synagogues.
The extensive investigation was facilitated by an FBI informant who allegedly met with the defendants at a home equipped with hidden cameras and audio equipment, the prosecution says. The informant supplied the men with fake C-4 bombs and surface-to-air missiles as part of the sting operation, which involved more than 100 officers.
Don't Miss
U.S. District Judge Colleen McMahon interrupted the prosecution's lengthy overview of evidence, saying, "I'm thrilled that after 10 1/2 years of saying the judge is always the last to know that the government is being more fulsome than necessary."
The judge granted a defense attorney's request to allow Payen, who came to court wearing baggy jeans and a sleeveless muscle shirt, to be evaluated by a forensic psychiatrist. Payen is a Haitian immigrant; his co-defendants are U.S. citizens.
The next pretrial hearing is scheduled for September 17, providing time for the defense to review the mountain of evidence.
E-mail to a friend

CNN's Susan Candiotti contributed to this report.
All About Federal Bureau of Investigation