(CNN) -- Authorities in Michigan believe that they have found the body of a 5-year-old girl who disappeared while bicycling last week.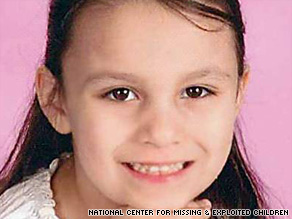 Nevaeh Buchanan, 5, was last seen May 24 outside her apartment in Monroe, Michigan.
Sheriff Tilman Crutchfield of Monroe County said the body appears to be that of Nevaeh Buchanan, who was last seen May 24 outside her apartment complex in Monroe, southwest of Detroit.
The perpetrator remains at large, Crutchfield said.
"That person, to our knowledge, is still out there in the community," he said. "In my opinion, it is a very sick or disturbed person we are looking for, a person that is able to abduct and murder an innocent 5-year-old child."
Crutchfield said the body was found buried on the bank of river in a rural area. "There was a material present on the grave site ... that appeared to be some type of cement or concrete," he said at a news conference.
A father, son and grandson were fishing at the river when they spotted a block of cement and noticed a bad smell, the father told HLN's Nancy Grace.

Watch authorities swarm the scene »
Guy Bickley, the fisherman who found the body, said he was using a block of concrete to rest his feet when he noticed a foul odor. The concrete broke apart from the activity around it, he added.
He was swarmed by flies, and he as he broke away pieces of the concrete, he noticed what clearly was human flesh, he said.
He had been following the missing child's case in the news, and he immediately thought of her, but "then denial come in," he said.
"I didn't want it to be the child. I didn't want to be the one that found the child," he said. "I didn't want it to be the child but I did know in my heart of hearts that it wasn't an animal, that it was somebody. And as it turns out, it was the little girl."
Crutchfield said he had no comment "on the cement issue other than there was some type of material present."
Authorities also found a shirt that matches the description of what Nevaeh is believed to have been wearing, he said.
Crutchfield vowed to use "whatever resources necessary" to find the perpetrator. The FBI is involved in the investigation.
The girl's family said they were having trouble accepting the news.

"I am not giving up hope yet, because I still feel that she is near me," Nevaeh's grandmother, Sherry Buchanan, told CNN affiliate WDIV.
"My son is a total tragic mess because of this," she added. He has missed her every single day she has been gone, and now he is going to miss her for the rest of his life."
E-mail to a friend

Nancy Grace producer Phillip Rosenbaum contributed to this report.
All About Murder and Homicide • Missing Children