(CNN) -- President Obama said Thursday that he was "deeply saddened" by the shootings at an Arkansas military recruiting station that left one soldier dead and another wounded.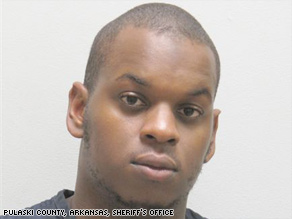 Abdulhakim Muhammad faces a capital murder charge and 16 counts of engaging in a terrorist act.
Investigators are still digging into the background of Abdulhakim Muhammad, a Muslim convert from Tennessee suspected of the attack on the Little Rock recruiting center on Monday.
Muhammad, formerly known as Carlos Bledsoe, is charged with killing Pvt. William Long, 23, of Conway and wounding Pvt. Quinton Ezeagwula, 18, of Jacksonville.
"I am deeply saddened by this senseless act of violence against two brave young soldiers who were doing their part to strengthen our armed forces and keep our country safe," Obama said in a statement issued by the White House.
"I would like to wish Quinton Ezeagwula a speedy recovery and to offer my condolences and prayers to William Long's family as they mourn the loss of their son."
Muhammad, 23, has pleaded not guilty. He told police that he had "political and religious" motives for the shooting, according to court records.
Don't Miss
"He was mad at the U.S. military because of what they had done to Muslims in the past," homicide detective Tommy Hudson said in a police report.
Federal agents said Wednesday that they are looking into whether Internet searches of various locations in several other U.S. cities were a sign that he was seeking "additional targets."
Among the cities investigators cited were New York; Atlanta, Georgia; Philadelphia, Pennsylvania; Louisville, Kentucky; and Memphis, Tennessee, where Muhammad grew up.
Muhammad's attorney, Jim Hensley, told CNN affiliate KATV that his client "does not believe Americans in general are his enemy." He said Muhammad wishes to make a statement to the public "at some point in the future" but would not discuss details.
"Right now, he just needs some time to get his head together," Hensley said.
Muhammad is being held on a state count of capital murder and 16 counts of engaging in a terrorist act by firing into an occupied building.
Federal investigators, meanwhile, are also looking into what he was doing during the 16 months he spent in Yemen, which deported him back to the United States in January.
A Yemeni Embassy official in Washington said Muhammad entered the country with a U.S. passport in September 2007 and spent two months teaching English to Yemeni students at the British Consulate there. Then he moved to the capital, Sanaa, where he taught English and studied Arabic at the City Institute.
In November, he was arrested in Aden for overstaying his visa and deported two months later in cooperation with the U.S. Embassy, the Yemeni official said.
A senior law enforcement official said this week that Muhammad had been arrested for using a fake Somali identification document. But upon his return to the United States, authorities had no evidence to arrest him or put him under surveillance, the official said.
Muhammad had filed a petition in court April 23 asking to change his name "for religious reasons" to Abdulhakim Bledsoe, but it has not received court approval.
Just before the shooting, he was working out of a Hilton hotel in Little Rock in a family business: driving tourists around in a sightseeing van.
E-mail to a friend

CNN's Brian Todd and Carol Cratty contributed to this report.
All About Arkansas • Little Rock • U.S. Army