(CNN) -- An anti-abortion activist accused of killing Kansas physician George Tiller was "obsessed" with the doctor and had debated whether to kill him in the past, his former roommate said Thursday.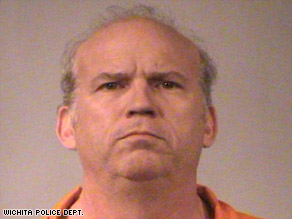 Scott Roeder, 51, is being held on a first-degree murder charge and two counts of aggravated assault.
"It was almost his calling to do something about this particular doctor," Eddie Ebecher said.
Tiller, 67, was one of the few U.S. doctors who performed late-term abortions, and he already had survived one attempt on his life before being gunned down in his church Sunday morning. Ebecher's former roommate, Scott Roeder, has been jailed on first-degree murder and aggravated assault charges in Tiller's death.
Roeder has not yet entered a plea to the charges, and police have not disclosed a motive in the case. But associates have said the 51-year-old suspect was a regular among the anti-abortion protesters that routinely gathered at Tiller's Wichita clinic.
Ebecher said he lived with Roeder in a Kansas City suburb for almost two years. He said he and Roeder met through the anti-government Freemen movement in the 1990s and consider themselves part of the "Army of God," a group that has celebrated the slayings of Tiller and other doctors who provide abortions.
Ebecher said Roeder's interest in Tiller became intense in the past two years. But he said that when Roeder once raised the prospect of killing Tiller, he warned him against it.
"He came to me and asked me my advice if he thought it was a good idea to assassinate the doctor," Ebecher said. "I told him no."
Most of the leading U.S. anti-abortion groups have condemned Tiller's killing and disavowed Roeder, arguing they wanted the Wichita clinic shut down through peaceful means. But the Army of God's Web site hailed Roeder as an "American hero," declaring Tiller is "now in eternal hell fire for shedding the blood of innocent children."
The site also features tributes to Paul Hill, who was executed in 2003 for killing a doctor and his volunteer escort in Pensacola, Florida; Eric Rudolph, who set off fatal bombs at the 1996 Olympic games and a Birmingham, Alabama, abortion clinic; and others who have attacked abortion clinics, doctors or others.
A Kansas judge Thursday set Roeder's bail at $5 million. In court papers, Roeder stated he had about $10 in the bank, made about $1,100 a month and listed his 1993 Ford Taurus as his only significant asset.
Relatives said Roeder had suffered from mental illness over the years and had refused treatment at times. He served prison time in Kansas in the late 1990s after being arrested with explosives in his car, but his conviction was later overturned on appeal.
His ex-wife, Lindsey Roeder, said this week that her ex-husband turned to anti-government activism in the early 1990s after struggling financially, then became involved in the anti-abortion movement.
"That's not the man I married," she said. "It's the man I divorced."
Ebecher, who also goes by the name "Wolfgang Anacon," said he often went with Roeder to anti-abortion rallies, including one at Tiller's Wichita clinic, which was the scene of regular protests.
"He was a highly religious individual and had very high moral convictions in order to carry out this act," Ebecher said. He added, "I feel that Scott had a burden for all the children being murdered, and that he wanted to release the children from that kind of torture in the future."
Ebecher said that just days before Tiller's slaying, he got a call from his old roommate that in hindsight sounded like a warning.
"He was going through the events of his life and he was going to miss certain people and things were not going to be available to him anymore," Ebecher said. "I should have picked up that something imminent was going to happen, but I didn't."
E-mail to a friend