By John Murgatroyd
CNN





ATLANTA, Georgia (CNN) -- The government completed its evidence Wednesday in the case of a former Georgia Tech student who prosecutors say was a supporter of terrorism.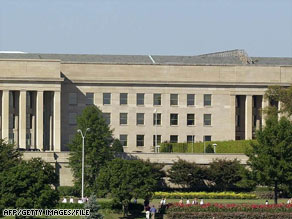 The FBI says Syed Haris Ahmed took casing video of the Pentagon and discussed attacks on the United States.
The trial of Syed Haris Ahmed started Monday. Ahmed, 24, and alleged co-conspirator Ehsanul Islam Sadequee are charged with providing material support to terrorists and other conspiracy counts. Sadequee is expected to go on trial in August.
Ahmed was told after being interviewed by the FBI not to talk with Sadequee, prosecutors said. But while under FBI surveillance, Ahmed contacted Sadequee, according to prosecutors.
Special Agent Matthew Acker testified he watched Ahmed access a computer at a north Georgia library on March 21, 2006. Checking the browser history on the computer, investigators found Ahmed used a Yahoo e-mail account to get in touch with Sadequee, who was visiting his father in Bangladesh.
"The dogs (law enforcement) came to me," Ahmed wrote, according to prosecutors. "They even had info regarding both of our trips."
Ahmed and Sadequee took a trip in March 2005 to Canada, where they met three other men and discussed potential targets to attack that include oil refineries, a military base and a GPS satellite system, prosecutors said.
Assistant U.S. Attorney Robert McBurney said Ahmed and Sadequee also traveled to Washington in April 2005 and made shaky "casing" videos of area landmarks including the Capitol, World Bank building and a Masonic Temple.
Don't Miss
The videos were found on the hard drives of Younis Tsouli and Aabid Hussein Khan after the men were arrested on terrorism charges in the United Kingdom, authorities said. The government said both men were in possession of a large quantity of "violent jihad materials."
A terrorism consultant testified Khan and Tsouli had connections with terrorist organizations. Prosecutors presented communication evidence between Ahmed and Khan as well as Sadequee and Tsouli.
The government maintains Ahmed's intentions were to enter a terrorist training camp during a trip to Pakistan in July of 2005.
But defense attorney Jack Martin said while in Pakistan, Ahmed was talked out of attending a camp by his family.
"I talked to my cousins, and they put some sense into me," Ahmed can be heard saying on a recording during an interview by the FBI.
Martin has argued his client is a shy, highly emotional young man.
Martin said Ahmed moved to a suburban Atlanta neighborhood with his family when he was 12. He did not have a religious mentor and turned to the Internet to find his identity as a Muslim, Martin said.
There never were any agreements established with co-conspirators, and the actions of Ahmed were nothing more than "childish fantasies," Martin said.
Martin said Ahmed did not believe the Yahoo e-mail account was being monitored by the FBI, and pointed out that in a March 21, 2006, e-mail Ahmed wrote to Sadequee: "I told them (the FBI), which is true to the best of my knowledge, that we were kids who just got excited."
Ahmed waived his right to a jury trial and agreed to allow U.S. District Judge William Duffey decide his case.
Martin is expected to call two of Ahmed's family members to the stand for the defense Thursday.

E-mail to a friend