LITTLE ROCK, Arkansas (CNN) -- A man charged in a fatal shooting at a Little Rock military recruiting center had searched the Internet regarding "different locations in several U.S. cities," the FBI and Department of Homeland Security said Wednesday.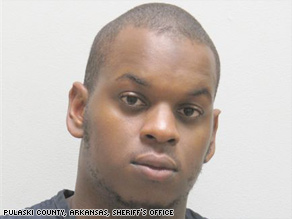 Abdulhakim Muhammad faces a capital murder charge and 16 counts of engaging in a terrorist act.
The finding prompted the agencies to issue a joint alert Tuesday to state and local law enforcement agencies. Authorities said Abdulhakim Muhammad had conducted Google searches to find maps of various locations -- and that "additional targets ... could not be ruled out."
"Given that the charged subject in this case, Carlos Bledsoe, aka Abdulhakim Muhammad, conducted Internet searches related to different locations in several U.S. cities, the FBI and DHS provided an advisory message to our law enforcement partners on the situation," said Thomas Browne, special agent in charge of the FBI's Little Rock office, in a written statement.
The locations included Jewish organizations, a Baptist church, a child-care center and a post office, along with military recruiting centers, according to the advisory, a copy of which was obtained by CNN. The sites were in Atlanta, Georgia; Little Rock; Louisville, Kentucky; New York; Philadelphia, Pennsylvania; and Memphis, Tennessee, the advisory said. The entities mentioned were being notified.

Watch the scenes from court »
"Out of an abundance of caution, and in light of newly discovered information, the FBI cannot rule out additional subjects, targets, or the potential for inspired copycats," it said.
"We don't know what it means," a law enforcement official said when asked if the searches indicated other possible targets.
Muhammad, 23, is charged with one count of capital murder and 16 counts of engaging in a terrorist act in the Monday shooting death of Pvt. William Long, 23, of Conway, Arkansas, at the recruiting center. Pvt. Quinton Ezeagwula, 18, of Jacksonville, Arkansas, was wounded in the incident. He was in stable condition Tuesday, authorities said. Both men were standing outside the center when they were shot.
Don't Miss
The "terrorist act" counts stem from shots fired at an occupied building.
The shooting occurred because Muhammad was angry at the treatment of Muslims, authorities have said. Although he pleaded not guilty in court Tuesday, documents in the case say he waived his Miranda rights after the shooting and gave a video statement indicating "political and religious" motives were involved.
Muhammad "stated that he was a practicing Muslim ... that he was mad at the U.S. military because of what they had done to Muslims in the past," homicide Det. Tommy Hudson said in a police report. Muhammad told police he fired several rounds at the soldiers, intending to kill them -- and would have killed more people if he had had the chance. He told authorities he was moved to kill after watching a video on subversive activities.
A computer was seized from Muhammad's Little Rock apartment and transferred to the FBI for investigation, but it was unclear whether authorities obtained the search information from it. An atlas of maps was also found in Muhammad's vehicle, authorities said. Earlier, Little Rock Police Chief Stuart Thomas said police recovered three guns from the suspect's vehicle -- an SKS semi-automatic rifle, a .22-caliber rifle and a .380-caliber automatic pistol. A police report said the victims were shot with an SKS rifle.
So far, the FBI and local authorities have said they have found no evidence indicating Muhammad was working with other individuals. Police are attempting to find and speak with those who knew him.
The FBI is aware that Muhammad visited Yemen -- and was arrested there for using a fake Somali identification document, a senior law enforcement official told CNN. While authorities knew Muhammad had returned to the United States, they had no evidence upon which to arrest him or put him under surveillance, the official said. But they want to know more about why he visited Yemen and who he met with there.
Born Carlos Bledsoe, Muhammad had filed a petition in court April 23 asking to change his name "for religious reasons" to Abdulhakim Bledsoe, but it has not yet received court approval.
Muhammad grew up in Memphis, Tennessee, where a former neighbor remembers him as "a good kid, a happy-go-lucky kid."

Before the shooting, he was working out of a Hilton hotel in a family business -- driving tourists around in a sightseeing van. He lived in a Little Rock apartment, and neighbor Jacqlyn Dillard said he was quiet -- not loud "like a normal 20-something-year-old."
Muhammad's public defender, Kent Krause, said a formal hearing will be held for his client, but no date has been set.
E-mail to a friend

CNN's Jeanne Meserve, Carol Cratty and Terry Frieden contributed to this report.
All About Arkansas • Little Rock • U.S. Army