From John Murgatroyd
CNN





ATLANTA, Georgia (CNN) -- Proceedings resumed Tuesday for a former Georgia Tech student who prosecutors say was a supporter of terrorism, but whose attorney calls him an excited young man given to "childish fantasies."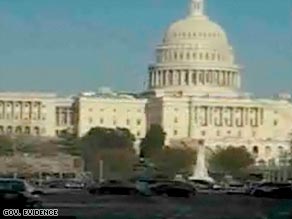 The Capitol is pictured in a frame from a video that the FBI says Syed Haris Ahmed shot.
Syed Haris Ahmed was just one step removed from bomb throwers and shooters, Assistant U.S. Attorney Robert McBurney said Monday as the trial opened in federal court in Atlanta, Georgia.
Ahmed, 24, and alleged co-conspirator Ehsanul Islam Sadequee are charged with providing material support to terrorists and other conspiracy counts. Sadequee is set to go on trial in August.
McBurney said the case is about supporting terrorism, not actually "pulling the trigger or dropping the bomb." He said Ahmed, a naturalized U.S. citizen who was born in Pakistan, offered himself as personnel for violent jihad, took casing videos of landmarks in Washington, and discussed attacks on other targets in the United States.
But defense attorney Jack Martin labeled his client as a shy, highly emotional young man.
Martin said Ahmed moved to a suburban Atlanta neighborhood with his family when he was 12 years old. Ahmed did not have a religious role model and turned to the Internet to find his religious identity as a Muslim, Martin said. He said there were no agreements made with co-conspirators, and Ahmed's actions were nothing more than "childish fantasies."
Martin pointed out that Ahmed sent an e-mail after he was interviewed by the FBI that stated, "I told them, which is true, that we were kids who just got excited."
FBI Special Agent Mark Richards testified that Ahmed and Sadequee traveled from Atlanta to Canada in March 2005 to meet with three other men they had met online. During that meeting, Ahmed said "we should attack oil storage facilities and refineries," according to a written statement signed by Ahmed. He also said they discussed attacking military bases and worldwide Global Positioning Systems.
Ahmed and Sadequee also traveled to Washington to videotape the Pentagon, the Capitol, the World Bank and other landmarks, according to Richards' testimony.
The short, shaky videos are no more than 30 seconds in length each. In one video, Ahmed can be heard saying "This is where our brothers attacked the Pentagon."

Watch, listen to the videos allegedly shot by Ahmed and Sadequee »
The videos were allegedly e-mailed to other co-conspirators and found on the hard drives of at least two men who were arrested on terrorism charges in the United Kingdom.
Martin maintains the videos are amateur and silly, but prosecutors said that Ahmed stated during an FBI interview that the videos were sent "to prove that, you know, we are something." "It only proved that I can take risks," Ahmed said.
McBurney described a July 2005 trip where Ahmed traveled on a one-way ticket to Pakistan. McBurney said Ahmed's goal was to enter a terrorist training camp.
Martin said his client spoke with scholars while in Pakistan "who put sense into him" and that is why Ahmed returned to the United States. "He had the possibility, the opportunity to do it and he said no," Martin said.

The defense attorney said Ahmed was in Pakistan to visit family, look at schools and search for real estate deals for his father.
Ahmed waived his right to a jury trial and agreed to let U.S. District Judge William Duffey decide the case. Ahmed reportedly said he felt he had a better chance with a federal judge deciding his fate.
E-mail to a friend