(CNN) -- Five leaders of what was once the nation's largest Muslim charity were given long prison sentences Wednesday by a federal judge, months after they were found guilty of aiding a militant Palestinian organization.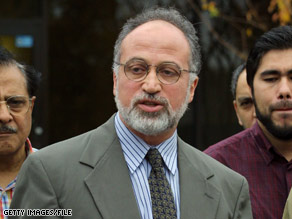 Ghassan Elashi, seen here at 2001 news conference, was sentenced to 65 years in prison.
"These sentences should serve as a strong warning to anyone who knowingly provides financial support to terrorists under the guise of humanitarian relief," said David Kris, assistant attorney general for national security.
Five leaders of the now-defunct Holy Land Foundation for Relief and Development were convicted in November by a federal jury for providing money and resources to the Palestinian group Hamas, designated by the United States as a terrorist organization.
The trial resulted from a 15-year Justice Department investigation.
Two of the men -- Shukri Abu Baker, 50, of Garland, Texas, and Ghassan Elashi, 55, of Richardson, Texas -- were also convicted on tax fraud charges.
At a federal court in Dallas, Texas, U.S. District Judge Jorge A. Solis sentenced Abu Baker and Elashi to 65 years in prison.
The other three received lesser sentences: Mohammad El-Mezain, 55, of San Diego, California, and Abdulrahman Odeh, 49, of Patterson, New Jersey each received 15 years in prison. Mufid Abdulqader, 49, of Richardson, Texas, received 20 years.
Don't Miss
Federal authorities said the Holy Land Foundation was incorporated by Abu Baker, El-Mezain and Elashi. The other two worked as fundraisers.
The Bush administration shut down the Holy Land Organization in 2001 and froze its assets, charging that it was raising millions of dollars for Hamas.
Before it was shut down, the group, based in the Dallas suburb of Richardson, was hailed as the largest Muslim charity in America. The Justice Department accused it of funneling $12.4 million to Hamas in the guise of humanitarian donations.
A first trial in 2007 ended in mistrial, prompting the Justice Department to refile charges. The jury in the second trial, which lasted two months, deliberated for eight days.
Wednesday's sentencing, said Kris, culminated "many years of painstaking investigative and prosecutorial work at the federal, state and local levels."

E-mail to a friend

All About Hamas • U.S. Department of Justice • Richardson (Texas)