(CNN) -- Former police officer Drew Peterson tried to hire a hit man to kill his third wife, a prosecutor in Will County, Illinois, said at a hearing Friday.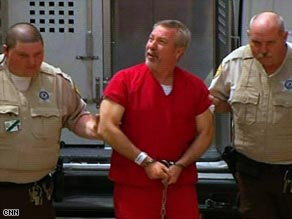 Drew Peterson jokes with the media as he's escorted to court on May 8 in Will County, Illinois.
State's Attorney James Glasgow said during a bail reduction hearing Friday that Peterson tried to solicit a hit man for $25,000 to kill Kathleen Savio, press secretary Charles Pelkie said.
The hearing concluded with 12th Circuit Judge Carla J. Alessio-Policandriotes denying Peterson's request to reduce his $20 million bail.
The former Bolingbrook, Illinois sergeant has pleaded not guilty to first-degree murder for Savio's death in 2004.
The couple was going through an acrimonious divorce when Savio was found dead in her bathtub with a gash to the back of her head.
His attorney dismissed the allegation that Peterson sought a hit man to kill Savio, saying it was one of many claims to come out of the hearing that he would disprove.
"He said a lot of things he can't substantiate," attorney Joel Brodsky said after the hearing. "Each time he fails to prove them, we'll be there with a motion to reduce bond."
Peterson has also been named a suspect in the disappearance of his fourth wife, Stacy Peterson.
Don't Miss
Savio's death was originally deemed an accident, but after the Stacy Peterson case sparked new questions, Savio's body was exhumed. A grand jury indicted Peterson this month on a charge of first-degree murder in her death.
"So much of these 'new facts' have come to light in the last six months," Brodsky remarked. "People just seem to be having an amazing memory."
Members of Savio's family said they were not aware of the hitman allegations but were unsurprised by the news.
"After she first died, we were all convinced she was murdered," sister Susan Doman said. "I can't believe this day has come. ... It's a very bittersweet victory."

Doman said that she knew Savio had a $1 million life insurance policy and that she had removed Peterson as beneficiary before her death.
"I knew he was the beneficiary at one point," she said. "I don't know if he knew she had changed it."
E-mail to a friend

All About Missing Persons • Drew Peterson • Stacy Peterson