(CNN) -- A southwest Illinois man accused of strangling his wife and two young sons appeared in court Wednesday and pleaded not guilty to murder charges, officials said.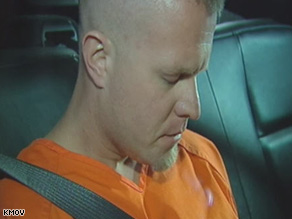 Christopher Coleman sits in the back of a police car after his arrest Tuesday in the slayings of his wife and two sons.
Christopher Coleman, 32, will remain jailed without bond pending a June 10 preliminary hearing, according to the Monroe County, Illinois, district court clerk's office.
He is charged with three counts of first-degree murder in the deaths of Sheri Coleman, 31, and sons Garett, 11, and Gavin, 9. Their bodies were found May 5 in the bedrooms of the Coleman's two-story home in Columbia, Illinois, a suburb of St. Louis, Missouri.
The three died of strangulation by ligature -- a string, cord or wire -- police said. Coleman was arrested Tuesday at his parents' home in Chester, Illinois.
As a police patrol car carrying Coleman arrived at the Monroe County courthouse for Wednesday's hearing, a waiting crowd shouted "murderer" and "baby killer," according to video posted on the Web site of CNN affiliate KSDK.
Coleman told police he left the house at 5:43 a.m. the day of the deaths and drove to a gym to work out.

Watch report of Coleman's actions after deaths »
"Shortly thereafter, he started calling his house, realized that nobody was answering and on his way back at around 6:50 a.m. is when he made the phone call to the Columbia Police Department, said Maj. Jeff Connor, commander of the Major Case Squad of Greater St. Louis.
Coleman said he was calling the house to make sure the boys were waking up for school, Connor said.
Threatening messages were found on the walls inside the home, Connor said, but would not disclose the exact wording. In an article posted on the Major Case Squad's Web site, the St. Louis Post-Dispatch newspaper reported the message said something to the effect of, "I told you this would happen."
A glove with red spray paint on it was found along Interstate 255, which would have been on Coleman's route to the gym, the newspaper reported. The message in the Coleman home was written in paint of a similar color, the article said.
Coleman previously worked in the security department for Joyce Meyer Ministries, an evangelical Christian organization based in suburban St. Louis, said spokesman Roby Walker.
Walker told CNN Coleman resigned last week after the two met regarding "a violation of moral conduct." He would not elaborate.
The Post-Dispatch cited police sources as saying Coleman had more than one romantic rendezvous with a Florida woman, a friend of his wife, during out-of-town ministry trips. Neither Coleman nor his attorneys have commented on that report, the Post-Dispatch said.
Police said Tuesday they did not have a motive for the killings.

Joyce Meyer Ministries said in a statement Wednesday that it had learned of the charges against Coleman.
"This horrible tragedy has deeply saddened us all and although nothing can compensate for the loss of this beautiful family, our ministry remains fully behind the diligent efforts of the law enforcement community," the statement said.
E-mail to a friend