NEW YORK (CNN) -- Alana "Laney" Gwinner, a 23-year-old accounting student at the University of Cincinnati, had a lot to celebrate Tuesday, December 9, 1997. She had just aced an exam and received a promotion at work.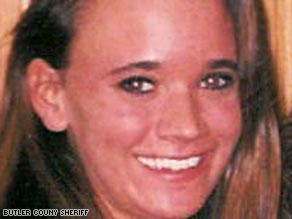 Alana "Laney" Gwinner, 23, disappeared after bowling with friends in December 1997.
So, that night, Gwinner and friends met up about 10 p.m. at a bowling alley in nearby Fairfield, Ohio. After midnight, Gwinner left to drive to her boyfriend's house, about 2 miles up the road.
She never made it.
Her boyfriend and relatives soon went to the bowling alley to look for Gwinner but did not find her or her car, a black 1993 Honda Civic CRX Del Sol.
When she did not show up for work the next morning, police were called and Gwinner was reported missing. Her car was put in the national databank for critical missing vehicles, which means police were on the lookout for the owner, who may have been kidnapped or met with some other foul play.
"Basically every law enforcement officer or agency in southwest Ohio was looking for that car,'' said Specialist Frank Smith, the detective who runs the cold case homicide unit at the Butler County Sheriff's Department.

Watch an update on the case »
"We knew she had to be in that car somewhere,'' Smith said. "They concentrated the search so heavily on the car, because wherever that car wound up, you had a crime scene.''
Police interviewed hundreds of people and administered about 100 lie detector tests to friends and others who knew her, including Gwinner's boyfriend. Everyone passed, and no viable leads were uncovered.
"After 72 hours, you're losing your ground, losing the element of surprise, losing the vehicles, potential witnesses," Smith said.
But a month later, the case was blown wide open.
In Covington, Kentucky, outside Cincinnati, a police officer was involved in a scuffle while trying to make an unrelated arrest on a bridge over the Ohio River. The officer fell to his death in the icy waters below.
During the intense search for him, a shipmate on a tugboat saw something floating on the water near Warsaw, Kentucky, about 65 miles from the bowling alley.
It was Gwinner's body, fully clothed and in good condition, Smith said. Her death was ruled a homicide.
Don't Miss
"She was not raped, and robbery was definitely not the motive,'' Smith said. He added that he believes that it was an attempted sexual assault that turned deadly
Gwinner was probably accosted in the alley's parking lot, killed and put in her car, which was then rolled into the Ohio or Miami rivers from a slope or embankment, Smith said.
Two days before she was found, the Ohio River rose to flood stage because of rain and melting snow.
"We feel that at that time, her body was probably forced out of the car,'' said Smith, whose department took the case over from the Fairfield Police Department four years ago.
The car with Ohio license plate AKP-3607 has never been found.
"You could have a car go in tonight, and by next week it could be covered by silt and almost undetectable by sonar,'' Smith said. ''Give it six months, and sometimes the cars uncover themselves again. It's a continuing pattern.''
Wherever the car may have been submerged, Smith says, the killer must have had ties to that community, because one must know a body of water very well to carry out such a heinous act.
"We have sonared up and down the river,'' Smith said, adding that the time-consuming and expensive search will be repeated this summer.
Over the years, the case has cost several million dollars to investigate, including fees for detectives, search vessels, outside experts, lab tests and other research, Smith said.
In his office, 8-by-10-inch headshots on the wall tell the department's cold case stories in human terms. From 1953 to Gwinner's case, Smith says, all 15 are equally important.
But since it's the most recent, Gwinner's may be the most urgent. ''We feel that anybody that can abduct a female and kill her can obviously continue to kill.''
Smith remained relentless when he was recently in the hospital for nine months, even reading Gwinner case files while laid up in bed. "It's just like they're family members. And that's how we pursue it, with vengeance.''
Gwinner's aunt, Patty Hall, describes her niece as a very sensitive young woman; she recalled the time Gwinner rescued a dog off the road. She enjoyed country line dancing, and ''she loved rodeos and cowboys,'' Hall said. "She'd come into a room and light it up.''
In his long search for justice, Smith has visited every prison in Ohio, speaking to inmates and searching for clues and tips.
"Could he be dead? Yeah,'' Smith said. "We have to treat it as if the offender is still alive and a potentially dangerous person.''
Just the other night, Smith, who is also an ordained Baptist minister, and his wife were dining at a steakhouse. When he saw a couple with two children enter the restaurant, he thought of Gwinner.
"It was a very adorable family, and it comes back to that memory again of what Alana Gwinner could have had.''
If an investigator separates his work from the rest of his life, he is bound for failure, Smith said.
A year ago, Smith put up billboards with Gwinner's photo in several towns north of Cincinnati. In addition, Smith, along with the sheriff, the county prosecutor and Crime Stoppers of Cincinnati, are offering a $10,000 reward for information that leads to an arrest and conviction.

"Somebody has to speak for this girl. Someone has to get the wheels of justice going and hold somebody accountable for this,'' Smith said.
Anyone with more information is asked to call Crime Stoppers at 513-352-3040 or Detective Frank Smith at 513-785-1236.
E-mail to a friend

All About Murder and Homicide • Nancy Grace