(CNN) -- A 26-year-old man was arraigned Tuesday on murder charges in the January strangling deaths of his girlfriend and her four small children in an Oklahoma apartment.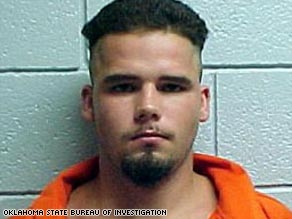 Joshua Durcho told a friend he choked Summer Rust but said her children were elsewhere, an affidavit says.
Joshua Steven Durcho is charged with five counts of first degree murder in the January deaths of Summer Rust, 25; her son Teagin, 4; and daughters Evynn, 3, and Autumn and Kirsten, both 7.
All five bodies were found January 12 in Rust's apartment in El Reno, Oklahoma, about 30 miles west of Oklahoma City.
Authorities believe Durcho killed Rust because she threatened to call the police on him, prosecutors said in court documents released Tuesday.
He knew that likely would bring about his arrest, the documents said, because two outstanding bench warrants had been issued on him after he failed to appear in court in two criminal cases -- one on charges of driving under the influence and the second on charges of unlawful possession of a controlled dangerous substance.
Durcho had previously served time in prison after being convicted of unlawful possession of marijuana and "vowed he would never go back to prison," the court documents said.
Prosecutors intend to seek the death penalty against Durcho, according to the documents, which note each victim suffered "severe pain and anguish" as they fought for their lives while being strangled with a ligature, which could include a string, cord or wire. In addition, the documents said, evidence indicates Durcho sexually abused both the 7-year-old girls at or near the time they died.
In Tuesday's arraignment, Canadian County District Judge Edward Cunningham entered not guilty pleas on Durcho's behalf, according to The Oklahoman newspaper.
An affidavit filed in the case, written by an Oklahoma State Bureau of Investigation agent, said Durcho went to the home of an acquaintance January 12 and said he had "choked" Summer Rust -- identified in court papers as Summer Garas -- to death and was leaving Oklahoma.
When the acquaintance, a women, asked Durcho about Rust's children, he "told her that the children were at their grandmother's residence ... while he and Summer worked out their relationship problems," according to the affidavit.
The acquaintance then called Durcho's mother, who drove to the apartment but received no answer at the door, the affidavit said. She asked her nephew, Durcho's cousin, to accompany her, leading to the discovery of Rust's body. The cousin notified police, and responding officers found the children's bodies in the apartment.
According to the court documents released Tuesday, Durcho also told the female acquaintance that he killed Rust because she threatened to call the police on him.
Durcho was arrested in Hamilton County, Texas, the day after the bodies were found. He has been appointed public defenders, according to Canadian County, Oklahoma, court records, and earlier waived his right to a preliminary hearing in the case.
E-mail to a friend

CNN's Ashley Broughton contributed to this report
All About Murder and Homicide • Capital Punishment • Oklahoma