From Dave Alsup
CNN





PADUCAH, Kentucky (CNN) -- A jury on Tuesday heard the last bits of evidence it will be asked to consider before deciding whether to sentence a former U.S. soldier to death for war crimes he committed in Iraq.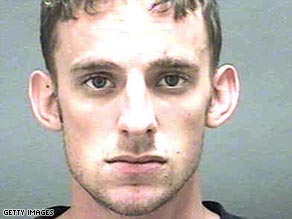 Former U.S. soldier Steven Green has been convicted of raping and killing a 14-year-old Iraqi girl.
Steven Green was convicted earlier this month in U.S. District Court in Kentucky of murder, rape, conspiracy and obstruction of justice in connection with a 2006 rape-and-murder rampage south of Baghdad.
A jury found him guilty of raping a 14-year-old girl, then killing her and setting her body on fire to destroy evidence. Green also was found guilty of killing the girl's parents and 6-year-old sister.
He is facing trial in civilian court because he had already been discharged from the Army before his crimes came to light. If the jury chooses death, he would become the first former U.S. soldier given the death penalty for war crimes by a civilian court.
On Tuesday, testimony centered around highly technical talk about Green's brain.
At issue was an MRI presented into evidence last week by the defense team and the analysis that followed suggesting that Green may have damaged part of his brain at some point in his life.
Dr. Helen Mayberry, a clinical neurologist from Emory University, testified for the prosecution, questioning at length the scientific methods of a doctor who testified for the defense -- as jurors looked at scans of Green's brain and a bailiff dozed in the back of the courtroom.
A week earlier, Dr. Rubin Gur of the University of Pennsylvania School of Medicine compared Green's brain scan to 41 others, saying his was significantly different than the others and possibly showed signs of one large or several small head injuries.
The prosecution has noted that Green's verbal scores on standardized tests were above average.
The defense has argued that Green's childhood was troubled and stressful, calling relatives and medical professionals to paint a picture that included the breakup of his parents marriage, regular beatings by an older brother and being moved around Texas by his mother.
An aunt testified that she wasn't sure the Army would accept Green after he got his high school degree through a correspondence course and that she never thought he would make it through basic training.
Green's father, John Green, and uncle, David Green, were in court Tuesday and met privately with him after court adjourned for about two hours.

Green is the last of four soldiers from the 101st Airborne Division convicted of rape, murder and a failed cover-up in the deaths of members of the Al-Janabi family in March 2006. The others were convicted in military court and imprisoned.
Closing arguments are scheduled to start Wednesday morning in the U.S. District Court of Western Kentucky.
E-mail to a friend

All About Steven Green • Iraq War • Kentucky