From Dave Alsup
CNN





PADUCAH, Kentucky (CNN) -- The aunt of former U.S. soldier Steven Green told jurors tearfully Monday that "We did not send a rapist and murderer to Iraq" as defense lawyers worked to save her nephew from a death sentence.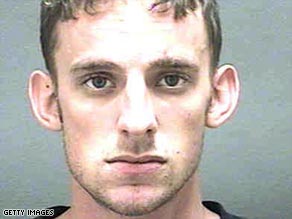 Former U.S. soldier Steven Green has been convicted of raping and killing a 14-year-old Iraqi girl.
Patty Ruth, a Texas elementary school principal, told a civilian jury about Green's childhood as a reader who loved to be hugged by relatives.
"I do not know how we got to this spot," Ruth said in emotional testimony. "I do not know how this happened."
Green was convicted last week in U.S. District Court in Kentucky of murder, rape, conspiracy and obstruction of justice in connection with a 2006 rape-and-murder south of Baghdad. A jury found him guilty of raping a 14-year-old girl, then killing her and setting her body on fire to destroy evidence. Green also was found guilty of killing the girl's parents and 6-year-old sister.
He could become the first former U.S. soldier to face the death penalty for war crimes before a civilian court, where he was tried because he had been discharged from the military before his crimes came to light. Four other former soldiers are in prison for their roles in the crimes and the cover-up that followed.
Green faces either death or life in prison without the possibility of parole. His fate will be in the hands of the jury by week's end.
The defense has presented relatives and medical professionals who have pieced together a picture of Green's childhood as troubled and stressful. It included the breakup of his parents' marriage, routine beatings to the point of injury by an older brother and being moved about through Texas by his mother.
Don't Miss
Ruth, the final witness scheduled by the defense, said that when the idea of the military came up for her nephew, she was unsure the Army would accept him. Even after he received a high school diploma through a correspondence course, she said, "I could not picture or imagine how he could make it through basic training."
Ruth said when she saw a picture of her nephew before his September 2005 deployment, she knew he wasn't "Stevie" anymore, standing as tall as his father in the photo at Fort Benning, Georgia.
When he returned from Iraq 11 months later, he was "remarkably thin," Ruth said, and she noticed circles under his eyes. Green and his father spent a night at the Ruth home, his aunt said, and she remembered him pacing the yard while smoking. He fell asleep wearing his fatigues, she said.
When asked by the defense about the rape-murder plot that left an Iraqi family dead near Yusufiya, about 20 miles south of Baghdad, Ruth responded, "He's my Steve. You can't stop loving someone."
There were other family members in the court on Monday. Green's father, John, an oil field worker from Midland, Texas, looked on quietly. He did not testify.

Ruth, who is John Green's sister, noted for the jury that Green's mother is not at the trial this week. The mother is moving and had to attend a going-away party, Ruth said.
Final arguments are expected Wednesday.
E-mail to a friend

All About Steven Green • Iraq War • Kentucky