(CNN) -- Drew Peterson pleaded not guilty Monday to a charge of first-degree murder in the death of his third wife, Kathleen Savio.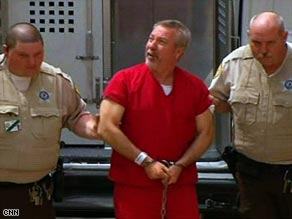 Drew Peterson jokes with the media as he's escorted to court on May 8 in Will County, Illinois.
The former police officer entered the plea in a Will County, Illinois, courtroom, said Charles Pelkie, a spokesman for the state's attorney in the county. Peterson remains in jail with bond set at $20 million, he said.
Investigators have named Peterson as a suspect in the disappearance of his fourth wife, Stacy Peterson. His third wife's death was originally deemed an accident, but after the case of the fourth wife sparked new questions, Savio's body was exhumed and a grand jury indicted Peterson this month on a charge of first-degree murder in her death.
On Monday, prosecutors asked that a new judge hear the case, according to CNN affiliate WGN-TV of Chicago, but the reasons for that request were not immediately clear.
After Stacy Peterson disappeared in October 2007, it was revealed that Savio had died in 2004 during a nasty divorce. Through his attorney, Drew Peterson has denied wrongdoing in either case. He has maintained that Stacy Peterson left him for another man.
Don't Miss
His lawyer said the cases are not linked.
"They're two separate and distinct cases," Andrew Abood told CNN.
"We know in Kathleen's case we have an original autopsy that says accidental death," he added. "In Stacy's case, there has been a significant search for her and there is no proof that there has been any wrongdoing to her. So, under those circumstances, we believe that Drew is innocent of any allegations and that these charges are based upon hearsay and innuendo and rumor."
Outside the courtroom on Monday, relatives of Kathleen Savio expressed hope for justice to be done.
"We hope it's going to come out the right way," her father, Henry Savio, told reporters.
His daughter died just before finalization of the division of the marital assets, leaving Drew Peterson the sole beneficiary.
After authorities exhumed her body and conducted further tests, her death was ruled a "homicide staged to look like an accident."
Peterson resigned his job as a sergeant with the Bolingbrook, Illinois, police department shortly before the body was exhumed.
E-mail to a friend

All About Missing Persons • Drew Peterson • Stacy Peterson