By Mallory Simon
CNN






(CNN) -- More than three months after 5-year-old Haleigh Cummings disappeared from her home in Satsuma, Florida, her father took to the Web to beg anyone with information about his daughter's whereabouts to call police.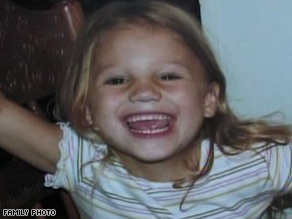 Haleigh Cummings, 5, was last seen as she was put to bed about 8 p.m. February 9.
"It's been a long time, but she's still out there somewhere, and the one tip you think might be nothing might be the one that brings her home," Ronald Cummings said in a video posted on the findhaleighnow.com Web site. "And we still need her to come home."
In his emotional plea, Cummings also spoke to his missing daughter.
"Haleigh, if you are watching, baby I love you, and we are still looking for you," he said.
Cummings thanked everyone who has called police with tips or who have helped comb the neighborhood for clues.
Police and family members have searched for more than 90 days, but they still have no answers.
Cummings' lawyer, Jerry Snider, asked the public to remain diligent and to report anything they say or have heard, regardless of how miniscule it may seem.
"[It] may be the one piece of information to bring Haleigh home," Snider said.
Cummings has made several public pleas for information about his daughter's disappearance, even begging whoever might be holding her to just return her home.
Police have said they think Haleigh was abducted but have provided few details.
Don't Miss
In March, Cummings married his then-girlfriend Misty Croslin, who was the last person known to have seen the child alive, saying it was what Haleigh would have wanted.
Croslin, 17, said she tucked Haleigh and her 4-year-old brother into bed about 8 p.m. February 9.
She said she went to sleep herself about 10 p.m. but woke at 3 a.m. to find Haleigh missing and a back door propped open by bricks.

Ronald Cummings called police and reported his daughter missing when he returned from work at dawn.
Authorities have collected DNA samples from Cummings and Croslin, the Putnam County Sheriff's Office said.

E-mail to a friend

All About Missing Children • Haleigh Cummings • Ronald Cummings