(CNN) -- Police say they believe they know who killed a 31-year-old Southern Illinois woman and her two young sons, but are waiting for prosecutors to build a strong forensic case against the suspect before disclosing his identity.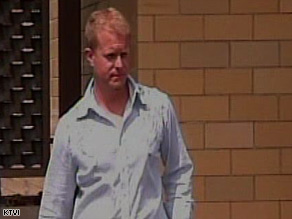 Chris Coleman told police he had left the house to go to a gym before his wife and children were found slain.
"We don't have a warrant for his arrest at this time, so we don't feel it would be prudent to give his name out until the state's attorney determines whether or not there's enough to charge him," said Maj. Jeff Connor of the Major Case Squad.
Connor heads the squad that is part of the St. Louis, Missouri, homicide task force. He made the comments during an appearance on HLN's Nancy Grace.
Police found the bodies of Sheri Coleman and the children, Garret, 11, and Gavin, 9, in the bedrooms of their two-floor home in the St. Louis suburb of Columbia, Illinois, on the morning of May 7. Indications were they had been strangled.
The killings shocked the suburb of about 10,000 residents. The Monroe County, Illinois, state's attorney's office is awaiting forensic test results, more interviews, documents and reports, according to the St. Louis Post Dispatch.

Watch Nancy Grace on the case »
Connor said threatening messages were found on the walls inside the home, but he would not disclose the exact wording.

According to Connor, Christopher Coleman -- the boys' father and Sheri Coleman's husband -- left the house at 5:43 a.m., and drove to a gym to work out. "Shortly thereafter he started calling his house, realized that nobody was answering and on his way back at around 6:50 is when he made the phone call to the Columbia Police Department," Connor said.
Connor said Coleman told police he started calling his house shortly after leaving it because he "was making sure the kids were getting up for school."
E-mail to a friend