By Alan Duke
CNN





LOS ANGELES, California (CNN) -- Howard K. Stern and two doctors entered "not guilty" pleas to charges of conspiring to provide drugs to Anna Nicole Smith before her fatal overdose in 2007.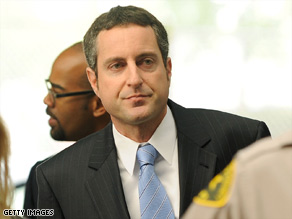 Howard K. Stern, Anna Nicole Smith's longtime confidant, arrives at Los Angeles Criminal Courts on Wednesday.
Stern -- Smith's longtime partner and attorney -- appeared before a Los Angeles judge Wednesday morning for formal arraignment, along with co-defendants Dr. Khristine Eroshevich and Dr. Sandeep Kapoor.
The three are charged in California with several felonies, including conspiring to furnish controlled substances, unlawfully prescribing a controlled substance and obtaining fraudulent prescriptions from June 2004 through January 2007 -- only weeks before Smith's death.
California Attorney General Jerry Brown, when he announced the case in March, said the doctors and Stern devised a plan to use fake names so Smith could be prescribed "thousands of pills."
Smith, the former Playboy playmate and reality TV star, was drugged "almost to the point of stupefaction," Brown said.
Stern defense lawyer Steve Sadow has called the charges baseless and accused Brown of using Smith's death for his own political purposes.
"Bottom line is that Howard K. Stern did not commit a criminal act, period, and you can ask me that all day long and I'll still tell you he did not commit a criminal act," Sadow said after Wednesday's hearing.
Smith, 39, was pronounced dead February 8, 2007, after being discovered unconscious in her hotel room at the Seminole Hard Rock Hotel and Casino near Hollywood, Florida. A coroner said she died from an accidental overdose of prescription drugs.
Florida prosecutors said in March they were taking a new look at Smith's death to see if evidence California investigators had gathered recently might cause them to open an inquiry.
The Broward County, Florida, state attorney's office never opened a probe into Smith's death but did assist the Seminole police department in its investigation in the days afterward.
E-mail to a friend

All About Anna Nicole Smith • Howard K. Stern • California • Florida