From Dave Alsup
CNN





PADUCAH, Kentucky (CNN) -- "You probably think I'm a monster."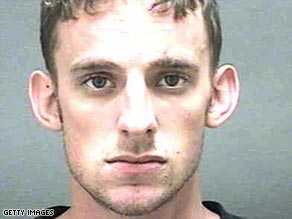 Former U.S. soldier Steven Green has been convicted of raping and killing a 14-year-old Iraqi girl.
That's what FBI agents said former U.S. soldier Steven Green told them nearly three years ago about accusations that he had raped a 14-year-old Iraqi girl and killed her and her family.
Green was found guilty Thursday in U.S. District Court in Paducah of the crimes and could face the death penalty.
Green spoke as the agents and he drove from his grandmother's home in Nebo, North Carolina, where he'd been arrested, to a detention center 45 minutes away in Asheville, North Carolina, authorities said.
According to court documents:
Green had taken his grandmother to dinner, and the two had plans for a movie. Agents asked the former Army private whether they could tell her the reason for his arrest. Green initially said yes, but changed his mind, not wanting to upset her. Agents let him smoke a few cigarettes before putting him in the car for the drive.
Without prompting, Green spoke.
"Knew you guys were coming," he said.
It was June 30, 2006, a month and a half after his discharge from the military. Green was a former member of the 502nd Parachute Infantry Regiment of the 101st Airborne Division, based in Fort Campbell, Kentucky.
The agents asked no questions. They listened as Green talked during the drive.
"All of my buddies were getting killed over there. My lieutenant got his face blown off. ... George Bush and Dick Cheney ought to be the ones that are arrested."
Green, a high school dropout, was a product of Bush's hometown of Midland, Texas. He had enlisted in 2005, leaving the hot, dry, oil-rich land of the Permian Basin for another hot, dry, oil-rich land.
"Joining the Army was the worst decision I ever made," he said.
Now, Green stands convicted for crimes he committed as a soldier.
Prosecutors said he and others in his unit plotted an attack on an Iraqi family. Green herded the parents and younger sister of 14-year-old Abeer al-Janabi into another room of a house while two accomplices raped her. He then gunned down her parents and her 6-year-old sister, before joining in the rape and killing the teenager.
The crimes happened in the Mahmoudiya area of Iraq, south of Baghdad, in 2006. Last week, a federal jury in McCracken County, Kentucky, deliberated for more than 10 hours before convicting Green for murder, rape, conspiracy and obstruction of justice, according to the court's Web site. Guilty on all 17 counts.
Four other former soldiers are in prison for their roles in the crime and the cover-up that followed.
Pvt. 1st Class James Barker, Sgt. Paul Cortez, Pvt. 1st Class Jesse Spielman and Pvt. 1st Class Bryan Howard received sentences ranging from 27 months to 110 years, with the possibility of parole in 10 years in the most severe cases.
They were convicted and sentenced in a military court. On Monday, as the penalty phase of his trial begins, Green might become the first former U.S. soldier to face the death penalty for war crimes before a civilian court.
The reason for the distinction: Green was discharged from the military before his crimes came to light.
When the killings became public in 2006, the Iraqi public was enraged and some Iraqi officials demanded that American soldiers accused of crimes against civilians face prosecution in Iraqi courts.
U.S. military and civilian officials condemned the attack and vowed to bring those responsible to justice.
E-mail to a friend

All About Steven Green • Iraq