By Bill Mears
CNN Supreme Court Producer





WASHINGTON (CNN) -- Former Enron CEO Jeffrey Skilling has asked the Supreme Court to overturn his 2006 conviction for insider trading, his attorney told CNN.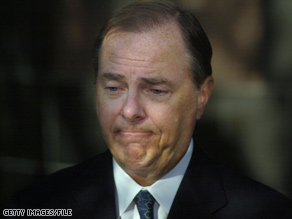 Jeffrey Skilling was convicted on 19 counts of fraud and conspiracy relating to the Enron collapse.
In a 50-page petition filed Monday, Skilling's attorney, Daniel Petrocelli, said "pervasive media coverage" prevented his client from receiving a fair trial from a Houston, Texas, jury.
"The widespread, persistent, and scathing demonization of Skilling by the Houston media far exceeded the editorial commentary" allowed by the high court in similar cases, said the appeal. Questionnaires submitted by potential jurors "confirmed the breadth and intensity of the hostility toward Skilling."
Skilling, 55, is currently in federal prison. He was convicted on 19 counts of fraud and conspiracy relating to the collapse of the Texas-based energy services giant in late 2001.
He had been a longtime executive at what became the world's largest wholesaler of gas and electricity. At Enron's height $27 billion traded in a single quarter. Skilling was named chief executive officer in February 2001, but resigned under pressure six months later as the company began to collapse financially. Thousands of investors and company employees lost their savings and their jobs in a case that became emblematic of corporate corruption cases in the past decade.
Skilling and Enron's top executive, Kenneth Lay, were accused of spearheading a massive campaign to mislead investors and shareholders with an aggressive investment strategy aimed at suppressing the company's shaky financial footing.
Both men were convicted in May 2006. Skilling was sentenced to more than 24 years in prison and fined $45 million. Lay died in July 2006 before being sentenced. Skilling's conviction was upheld by a federal appeals court.
Skilling's current appeal says he was improperly convicted of withholding his "honest services" from Enron's shareholders, which would be a violation of federal law dealing with fiduciary responsibilities. Petrocelli said the government never proved his client's conduct was designed to achieve "private gain," as the law required, as opposed to advancing the company's interests. He also said the "honest services" requirement is too vague.
"The government did not contend, and the record did not suggest in any way, that Skilling intended to put his own interests ahead of Enron's," the appeal noted.
There was no immediate reaction from the Justice Department, which will be required to file a written response to the appeal in coming weeks. The justices then will schedule a private conference to decide whether to take the case. A decision on that is not likely until September at the earliest.
Petrocelli, Los Angeles-based trial attorney with O'Melveny & Myers, told CNN that the questions raised by this case have current relevance, given the financial meltdown. "The issues presented in this appeal cry out for resolution by the Supreme Court," he said.
E-mail to a friend

All About Enron Corporation • U.S. Supreme Court