By Bill Mears
CNN Supreme Court Producer





WASHINGTON (CNN) -- The U.S. Supreme Court on Monday threw out an illegal immigrant's conviction for identity theft, saying the government had not proven the defendant knew the documents and Social Security numbers he was given belonged to someone else.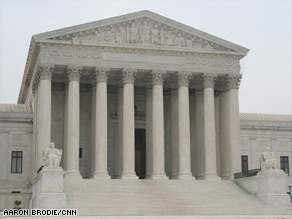 The Supreme Court unanimously sides with a Mexican arrested in a government raid on a Midwest work site.
The justices unanimously sided with a Mexican national arrested in a government raid on a Midwest work site. He was sentenced to an extra two years in federal prison for "aggravated identity theft."
"In the classic case of identity theft, intent is generally not difficult to prove," wrote Justice Stephen Breyer, speaking for the unanimous court. "We conclude that [federal law] requires the government to show that the defendant knew that the means of identification at issue belonged to another person."
The appeal turned on whether those who use fake IDs to obtain work in the United States -- but do not know the documents have information from a real person -- can be treated differently from those who possess phony numbers. The federal government had begun an aggressive crackdown on undocumented workers, most of whom must rely on fake IDs to obtain employment.
Stealing personal identification, such as Social Security numbers, is illegal, but federal courts around the country are divided over how to treat those who buy them on the black market.
Many criminals swipe identification to empty a person's bank account or falsely obtain loans or credit.
Attorneys for Carlos Flores-Figueroa asserted he simply used numbers picked "out of thin air" that happened to belong to another person. He said he used the numbers only to obtain work, not steal money.
Justice Department attorneys argued prosecutors need not prove "knowledge" that documents used belonged to someone else rather than being fabricated. Most illegal workers with false papers serve a few months or years behind bars, and many then are deported.
Flores-Figueroa had worked at a steel plant in East Moline, Illinois. He was arrested with a forged Social Security and alien registration cards, bearing numbers that had been assigned to other people.
He admitted obtaining the documents but said he did not know the numbers were someone else's. He was convicted and sentenced to 75 months in prison.
In their ruling, the justices focused most of their attention on the wording of a 2004 federal statute, which adds prison time for someone who "knowingly transfers, possesses, or uses, without lawful authority, a means of identification of another person."
Breyer admitted the "difficulty" in many cases of proving a defendant's "necessary knowledge" to commit identity theft. But he said failure to prove "knowingly" as a finding of fact cannot be ignored.
"The examples of identity theft in the legislative history (Dumpster diving, computer hacking, and the like) are all examples of the types of classic identity theft," Breyer wrote.
"But had Congress placed conclusive weight upon practical enforcement, the statute would likely not read the way it now reads," when it comes to having false ID to gain employment. "Instead, Congress used the word 'knowingly' followed by a list of offense elements" that were not proven in this case, he said.
The government said it was irrelevant under the law's intent how the person using the false identification planned to use it -- whether to get a job or drain someone's savings. The effect on the person whose privacy was violated remains the same, it argued.
Prosecutors have used the enhanced sentencing penalty for identity theft as a bargaining chip to persuade many illegal immigrants to plead guilty to lesser charges, often leading to immediate deportation.
The ruling is likely to diminish the government's plea-bargaining power, legal experts said.
E-mail to a friend

All About U.S. Supreme Court • Social Security Administration • Stephen Breyer