(CNN) -- A man shot and killed his wife and two of their children and then killed himself in central Florida on Sunday night, authorities said.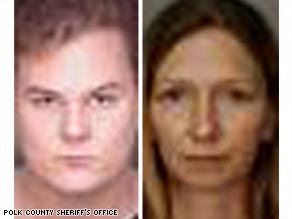 Troy Ryan Bellar shot and killed his wife, Wendy, and two of their children, sheriff's officials say.
Troy Ryan Bellar, 34, used a high-powered rifle with a scope to shoot his 31-year-old wife, Wendy, when she tried to leave their home, the Polk County Sheriff's Office said in a statement.
Two of the couple's children -- 5-month-old Zack and 7-year-old Ryan -- also were killed, but a 13-year-old got away, with the father chasing and firing after him, officials said.
"It is beyond my understanding why a man would shoot and kill his 5-month-old baby boy, his 7-year-old baby boy, try to kill his 13-year-old son, shoot his wife and then turn the gun on himself," said Polk County Sheriff Grady Judd. "There is no explanation for that."
The shootings happened in Lakeland, Florida, just east of Tampa.
When the shooting began, the couple's son, Nathan, ran out of the house and down the street -- with his dad chasing him through the garage and firing several shots, authorities said.
Nathan was unhurt and will be placed with family members.
Investigators do not know what led to the shooting, but believe it was preceded by "some kind of domestic disturbance," a statement from the sheriff's office said.
Bellar was arrested twice in Polk County: for aggravated assault in 1994, and for driving under the influence in 1999.
His wife was arrested in March for battery domestic violence.
E-mail to a friend

All About Murder and Homicide • Polk County Sheriff's Office