(CNN) -- The parents of missing English toddler Madeleine McCann on Friday unveiled a digitally enhanced picture showing what she might look like today if she is still alive.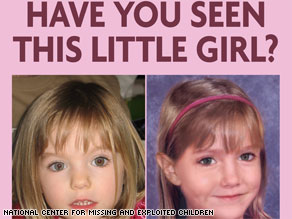 Madeleine McCann was 3 when she disappeared in 2007; this photo shows what she may look like at 6.
Madeleine was 3 years old when she disappeared during a family vacation in Praia da Luz, Portugal, on May 4, 2007. Portuguese police closed the case last July without a resolution.
The picture, which her parents revealed in an interview on the "Oprah Winfrey Show" airing Monday, is a school-style photo showing Madeleine at 6 years old, with a pink headband and shoulder-length hair.
An expert at the National Center for Missing and Exploited Children created the image using photographs of Madeleine's parents, a spokesman for the center told Guardian.co.uk.
Kate and Gerry McCann also discussed how they're coping with the disappearance of their daughter.
"Child abduction, I think, could destroy any family. There's no doubt about it," Gerry McCann told Winfrey.

Watch why the McCann's are waiting for Madeleine »
"But we've been supported tremendously well and I think that's helped us stay strong and stay together. Obviously, we're really united in our goal and our love of Madeleine and Sean and Amelie."

Kate McCann said she keeps Madeleine's room ready for her and admitted to visiting it twice daily, "just [to] say hello... just [to] tell her we're still going ... to do everything we can to find her."
Madeleine vanished from the family's holiday villa at the Portuguese beach resort while her parents dined in a nearby restaurant. The couple have campaigned publicly for information about their daughter's whereabouts since her disappearance.
E-mail to a friend

All About Madeleine McCann • Gerry McCann • Kate McCann • Missing Children