By Susan Candiotti and Ross Levitt
CNN





NEW YORK (CNN) -- FBI agents on Wednesday searched the law office of William Parente, the lawyer who killed his wife and two daughters before committing suicide April 19 in Maryland.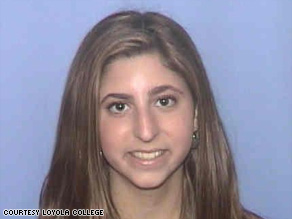 Police say Stephanie Parente's father killed his family and himself in a Baltimore hotel April 19.
Agents removed business records that might help explain what led Parente to take the life of his family in a hotel room near Baltimore, said FBI spokesman James Margolin. At least four agents left Parente's office carrying dozens of boxes and computer hardware, he said.
The FBI, at the request of Baltimore County police, is investigating what happened to money that might be missing.
CNN has learned that officials are investigating whether Parente lost at least $27 million of client's funds. Some clients said Parente encouraged them to invest in short-term real estate loans that he claimed would yield high returns.
A source familiar with the investigation said authorities are looking at more than one bank Parente used, allegedly to deposit clients' funds.
Don't Miss
One client, through a spokesman, has said Parente wrote him checks just before he killed his family and committed suicide, but the checks bounced.
Police have said Parente's wife, Betty, 58, and daughters Catherine, 11, and Stephanie, 19, were killed by asphyxiation and blunt force trauma. Parente, 59, bled to death after cutting himself.
E-mail to a friend

All About Crime • Federal Bureau of Investigation