By Chandler Friedman
CNN





ATLANTA, Georgia (CNN) -- A hijacked tractor-trailer, its driver clinging to the outside, led police on a wild chase Tuesday on Interstate 75 just south of Atlanta, Georgia, officials said.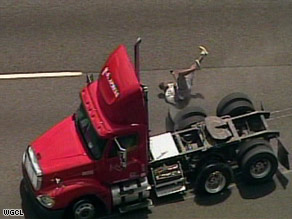 Driver Torrey Lang jumps from the vehicle as it slows to a stop. He had been clinging to the outside of the cab.
When the chase was over, the truck driver was safe and the hijacking suspect was in custody. Aerial footage of the chase showed truck driver Torrey Lang, 32, seated behind his truck's cab and holding on as it hurtled down Interstate 75 with Georgia State Patrol in pursuit, and the suspected hijacker behind the wheel.
Lang, apparently was in a parking lot when he saw the truck being stolen, said Greg Thompson, spokesman for Chattanooga, Tennessee-based U.S. Xpress, the company Lang works for.

Lang jumped on the side of the truck, then made his way to the back of the truck when it started moving, Thompson said.

As the truck was moving, Lang called 9-1-1. He stayed on the line describing the situation and his location until his phone was either dropped or lost, said George Louth, a spokesman for the police department in Union City, Georgia, where the chase began about 15 miles south of Atlanta.

The hour-long police pursuit started on surface streets and continued onto the interstate, eventually covering nearly 70 miles and passing through seven counties before it ended in Forsyth, Georgia, according to Louth.
Footage shows officers deploying spike strips to deflate the truck's tires, which then peeled away from the truck. Running on at least one rim, the truck slowed and began to stop, and Lang leaped onto the roadway and fell briefly before running to safety.
Once the truck came to a complete stop, more than a dozen officers surrounded it, guns drawn. Officers broke the drivers' side window, opened the cab door and pulled the suspect from the vehicle. He struggled briefly, but was tackled by numerous officers and forced to the ground. The suspect was later shown in police custody walking to a vehicle.

Milo Banks, 27, will be charged with fleeing and attempting to elude, kidnapping and theft by taking, according to Georgia State Patrol spokesman Gordy Wright. He also faces a felony theft charge in Union City, according to Louth.
A Georgia State Patrol officer was shot in the arm, but his injuries were superficial, a dispatcher said. Circumstances surrounding the shooting were unclear.
E-mail to a friend