ATHENS, Georgia (CNN) -- A University of Georgia professor apparently shot and killed his wife and two other people at a community theater group's reunion Saturday, then dropped the couple's two children off at a neighbor's and fled.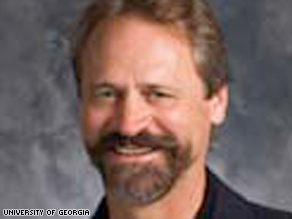 An alert on the UGA Web site says professor George Zinkhan is a suspect in an off-campus shooting.
Athens-Clarke County police said they have local, regional and national alerts out for George Zinkhan, 57, an endowed marketing professor at the school's Terry College of Business.
"It appeared he and his wife were having problems," police Capt. Clarence Holeman said.
Holeman identified the dead as Marie Bruce, 47, Zinkhan's wife and a prominent Athens attorney; Tom Tanner, 40; and Ben Teague, 63.
Friends identified Bruce as the president of the board of the Town and Gown Players, the theater group holding a reunion picnic on the theater's deck when the shooting took place. Tanner and Teague were identified as set designers for the theater.
Two other people were wounded by ricocheting bullets, Holeman said, but did not identify them. At least 20 people were in attendance at the event, he said.
Zinkhan was not at the theater event initially, Holeman said, but when he arrived, he got into "a disagreement" with his wife. He left the scene -- police believe to his car, where his children were waiting -- and returned with two handguns.
"It only took a few minutes," Holeman said. Police found eight shell casings, he said.
After the shootings, Zinkhan left the scene with his two children -- ages 8 and 10 -- still in the vehicle, police said. He drove to a neighbor's home in nearby Bogart, Georgia, where he lived, and left the children there.
The neighbor, Bob Covington, told CNN that Zinkhan arrived at his home shortly after noon with the two children.
"He rang the doorbell -- asked me if I could keep his kids for about an hour," Covington said. "I said sure, and he said there'd been some type of emergency, and he took off."
Zinkhan seemed hurried and agitated but that seemed consistent with an emergency, Covington said. He didn't question Zinkhan about the emergency, Covington said, adding that it wasn't unusual for someone in his family to watch the children.
An hour or so later, he said, police arrived and took the children.
Covington described Zinkhan as "a very quiet guy, but family-oriented."
"He was great around his kids," he said. "Never saw a bit of a problem between he his wife or his kids."
Covington said he was "completely shocked, didn't believe it" when he heard the news, and said he knew Marie Bruce much better than her husband.
"She was much more talkative, very vivacious," he said.
Police Maj. Mike Shockley told CNN that officers were searching Zinkhan's home Saturday and that a wide search for the suspect was in progress.
"It's still a hunt," he said. " ... Now it's just a matter of trying to locate him."
Holeman said Zinkhan has relatives in Texas and owns a home in Amsterdam, The Netherlands. He was last seen driving a red, 2005 Jeep Liberty, Holeman said.
The news reverberated across Athens.
"The University community is shocked and saddened at this tragic event," University of Georgia President Michael F. Adams, said in a written statement. "Our first thoughts are for safety of the university community and for prompt apprehension of the person responsible. Our thoughts and prayers are with the families of all those who have been affected."
Another university professor, Steve Elliott-Gower, told CNN that Zinkhan had been at the school for at least 10 years and was "a distinguished professor with a national reputation."
"He was quirky and aloof, but absolutely nothing that I saw would lead me to this conclusion," said the professor. Elliott-Gower said he didn't know Zinkhan well, but knew him through Zinkhan's wife who, like Elliott-Gower, was associated with the theater.

"There are generations of people in the Athens community that have been involved in the theater," he said. "It's really difficult to imagine how an organization which is this close-knit recovers from something like this."
Town and Gown Players' Web site said its present production, "Sherlock Holmes: The Final Adventure," is canceled.
E-mail to a friend

CNN's Divina Mims contributed to this report.
All About University of Georgia • Athens (Georgia) • Shootings