By Terry Frieden
CNN Justice Producer





WASHINGTON (CNN) -- Nazi war crimes suspect John Demjanjuk, 89, is physically able to be deported to Germany to stand trial, Justice Department lawyers told a federal appeals court Thursday.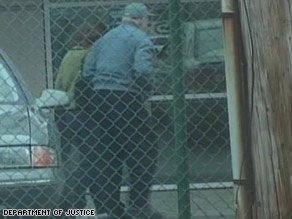 Department of Justice video of suspected war criminal John Demjanjuk shows him alert and walking.
The government lawyers provided the 6th Circuit Court of Appeals in Cincinnati, Ohio, with a medical report to support their argument that the judges should lift their stay temporarily blocking the deportation.
The medical details were filed under a court seal, but in a related filing the government said the report by a "certified flight surgeon ... has cleared Petitioner [Demjanjuk] for a flight to Germany."
Demjanjuk's attorney, John Broadley, argued last week that deporting him would constitute torture because of his health problems. Broadley has said Demjanjuk suffers from pre-leukemia, kidney problems, spinal problems and "a couple of types of gout."
The government on Thursday also gave the court and the news media recent videos designed to show Demjanjuk is physically strong enough to withstand the flight to Germany.
Justice Department officials noted one of the videos shows Demjanjuk after he was removed from his Cleveland home April 14. He was taken out of his home in a wheelchair and appeared slack-jawed and unmoving.
In the videos released by prosecutors, however, he is seen walking under his own power, alert and engaged in conversation.
In affidavits, Immigration and Customs Enforcement agents say Demjanjuk appeared frail and in pain when removed from his home, but his physical condition appeared to improve once he arrived at an agency office.
"Mr. Demjanjuk moaned and groaned every time the vehicle hit a bump," agent Aaron Roby said in an affidavit released Thursday.
"Mr. Demjanjuk's moaning and groaning lessened immediately upon his arrival at the ICE office. He stopped moaning and groaning entirely at some point and began carrying on an easy to follow and interesting conversation with medical personnel who were present and me."
Don't Miss
While at the ICE office, Demjanjuk was able to turn his body in his wheelchair with relative ease, move his head and neck in various directions, scoot himself up in his wheelchair and move his wheelchair up with his feet, among other actions, Roby said. He got up out of the wheelchair twice -- once to use the restroom and again to get into the pickup truck to transport him home. Roby said he helped Demjanjuk get into the pickup truck and said "he had no more difficulty than I would expect for someone his age."
In another affidavit, Capt. Carlos Quinones, a flight surgeon employed by the Division of Immigration Health Services, says he examined Demjanjuk on April 2 when he was complaining of "severe back pain." Quinones said when he touched Demjanjuk's back lightly, "he moaned in apparent pain and verbally complained of severe pain."
Quinones said on April 14, he accompanied Demjanjuk from his home to the detention area and was the doctor responsible for his care while he remained in federal custody.
He said Demjanjuk was seated in a wheelchair and facing forward as he was drinking apple juice at the detention area, and when he finished his apple juice "he turned to put the juice box on the bench nearby. I noticed that he turned his back with apparent ease in completing this task. I took notice of Mr. Demjanjuk's movement because during my physical examination of him on April 2, 2009, he expressed pain when moving his back.
"Upon his turning motion, I said, 'Looks like you're moving better now,' " Quinones says in the affidavit, adding Demjanjuk "immediately returned to his original sitting position."
Demjanjuk is charged in German court documents with "suspected assistance in the murder of at least 29,000 Jews at the Sobibor extermination center during World War II."
The court has not indicated when it will act. However, the government said if the court does lift the stay, they will not move to deport Demjanjuk until at least May 1. That would presumably give lawyers time to make a final plea to the U.S. Supreme Court.
E-mail to a friend

All About John Demjanjuk • Nazi Party • World War II