(CNN) -- A New York man who police believe killed his wife and daughters in a Maryland hotel room may have been involved in "questionable financial dealings," authorities said Wednesday.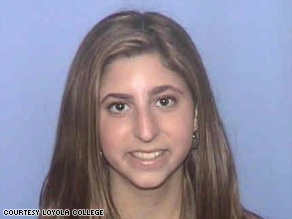 Stephanie Parente, 19, was found dead along with her sister and parents in a Baltimore hotel Monday.
The bodies of William Parente, 59; his wife, Betty, 58; and their daughters Stephanie, 19, and Catherine, 11, were found Monday in a room at the Sheraton Hotel in Towson, Maryland, a Baltimore suburb.
Evidence indicates Betty Parente and the two daughters died from blunt-force trauma and asphyxiation, said Baltimore County Police Chief Jim Johnson. William Parente committed suicide by cutting himself, he said.
"Baltimore County Police has learned of allegations that William Parente may be involved in questionable financial dealings," Johnson said. Authorities previously have said Parente was an attorney.
The family was from Garden City, New York, but Stephanie Parente was a student at Loyola College in Baltimore, and police said the family visited her there occasionally. William Parente, his wife and their younger daughter had checked into the Sheraton on April 15. They were due to check out Monday, Johnson said, but failed to do so.
One of Stephanie Parente's roommates called the hotel room around midnight, Hill said. CNN affiliate WMAR reported that the roommate was calling to see if Stephanie Parente was coming back to campus.
William Parente answered the phone and told the roommate his daughter would be staying with her family for the night. Authorities believe the three females were dead at the time of the phone call, Hill said.
The bodies were found Monday after a housekeeper told hotel management about 3 p.m. that the door to the room was locked and there had been no response from inside, county police spokesman Bill Toohey said Monday.
The bodies of Betty Parente and the two daughters were found on a king-size bed in the hotel room, while William Parente's body was found in the bathroom, police said. Evidence indicates Betty Parente and Catherine Parente were killed sometime on Sunday, with Stephanie Parente's death occurring later the same day.
Police spokesman Cpl. Michael Hill said the older daughter might have been killed after she returned to the room and found her mother and sister dead.
Don't Miss
Police had no information regarding how the deaths took place or what other family members were doing at the time. There was no evidence they were restrained, Johnson said. In addition, an autopsy showed no evidence they were drugged, Hill said, although conclusive toxicology test results are weeks away. Authorities are still investigating the timeline and details, Johnson said.
Police have not specified the murder weapon, although several objects in the room are being investigated, he said. No note or communication was found with the bodies.
Hill said police believe the family was together Sunday morning for breakfast, and they know what time the card key was last used to unlock the room.
Loyola College spokeswoman Courtney Jolley said Stephanie Parente was a sophomore majoring in speech-language pathology with a natural-sciences minor. She was a former member of the women's crew team and coxswain for the men's crew, Jolley said.
She also volunteered through the college's Center for Community Service and Justice. She had planned to study in Newcastle, England, next year, Jolley said.
Johnson urged people having emotional and mental health difficulties to reach out for help. "There's a safety net in place," he said.
E-mail to a friend

All About Murder and Homicide • Suicide • Maryland