(CNN) -- A California Sunday-school teacher accused of killing a young girl may have abducted another child, police said.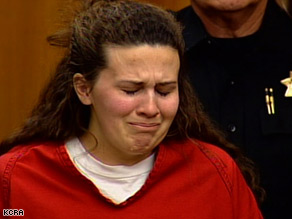 Melissa Huckaby is charged with killing 8-year-old Sandra Cantu, who was a friend of her own daughter.
Melissa Huckaby, 28, was arrested earlier this month and charged with killing and raping 8-year-old Sandra Cantu, who was taken from a mobile home park in Tracy, California.
Police said Huckaby was named in a January police report about the four-hour disappearance of a 7-year-old girl from the same mobile home park, CNN affiliate KOVR reported.
After Huckaby returned the girl, the girl had to be taken to a hospital because she was under the influence of a strong muscle relaxant.

Watch Nancy Grace for details »
Police were called to the mobile home park after the girl's mother reported her missing, according to KOVR. Police discovered that the girl was at a park with Huckaby. Huckaby said she had permission to take the girl, but the girl's family disputed that claim.
Don't Miss
About five hours after the girl was returned to her family, they discovered that she was under the influence of the drug.
"Her speech was slurred. She could barely walk. She could barely stand," the girl's older sister told KOVR.
Police could not prove that Huckaby had drugged the girl and no arrest was made then.
On April 11, Huckaby was arrested and charged with killing and raping Sandra Cantu.

Huckaby -- a Sunday-school teacher who lives in the same mobile home park as Sandra's family -- has been charged with murder, kidnapping, the performance of a lewd and lascivious act on a child under 14, and rape by instrument.
If convicted, she would face the death penalty or life in prison without parole, authorities said.
E-mail to a friend

All About Sandra Cantu • Melissa Huckaby • Murder and Homicide