NEW YORK (CNN) -- Two years ago this month, Lisa Stebic disappeared in the middle of a contentious marital separation, leaving two children behind.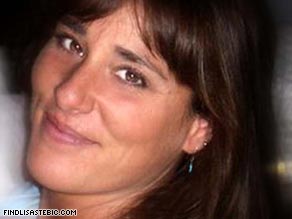 Lisa Stebic went to court to evict her estranged husband on the day she disappeared.
There was little doubt of the growing trouble in Lisa and Craig Stebic's marriage according to friends, family and court documents. They weren't speaking, but were living under the same roof.
On the day Lisa Stebic went missing, April 30, 2007, she petitioned the court to have her husband evicted from their home in Plainfield, Illinois.
As the second anniversary of Stebic's disappearance approaches, police consider her husband the prime suspect, but are far from solving the case. Craig Stebic has said he's innocent of wrongdoing.
Craig Stebic told police he was working in the back yard when Lisa left their home at 6 p.m., taking only her cell phone and purse.
Lisa Stebic frequently went jogging at a nearby track at that time in the evening, however no one saw her at the track on April 30.

Watch a report on the mystery »
"We weren't able to triangulate her cell phone to locate her when she went missing," said Chief Donald E. Bennett of the Plainfield Police Department.
"Her husband was very controlling and restrictive," said Bennett. "He only allowed her to have a pre-paid cell phone with a small number of minutes per month."
For weeks afterward police and search teams scoured the area, hoping to find the missing 37-year-old.
FBI and divers searched bodies of water near the Stebics' home, but found nothing.
Police executed a search warrant at the Stebic home in mid-May 2007 which included examination of the family computer and two vehicles. Investigators are not releasing results of the forensic evidence gathered.
But police said they found more than 15 guns at the home, all registered to Craig Stebic. While some were clearly hunting guns, others were not.
Police characterize Stebic as being uncooperative with investigators. He also refused to take a polygraph test, they said.
After checking tips that came to light in recent months, police were able to rule out other persons of interest. They have narrowed the pool of suspects to just one: Craig Stebic.
"I don't understand why the police have named my client a suspect. He has told police everything he knows about the day his wife disappeared," said his attorney, Dion Davi.
Investigators have said they believe Lisa Stebic was the victim of foul play. Her family and friends insist she would never go off on her own and leave her children.
The afternoon Stebic vanished she was at home with her husband and children. But Craig Stebic sent the children to a neighborhood candy store that afternoon. When they returned, their mother was gone.
Not long after Lisa Stebic disappeared, her estranged husband filed for sole custody of their children. The request was denied by the court.
Police also continue to search a large estate near the Michigan-Wisconsin border belonging to Craig Stebic's family. The estate is a six-hour drive from the Stebics' home in Plainfield, but the area is dotted with abandoned mines that could easily conceal a body.
"Our search up in that area didn't even begin to scratch the surface," Chief Bennett said.
Lisa Stebic's family and the Plainfield Police Department ask anyone with information on the whereabouts of Lisa Stebic to please call their tip line at 815-267-7217.

They are offering a $75,000 reward.
Lisa Stebic is described as 5'2" tall and 120 pounds with brown hair and brown eyes.
E-mail to a friend

All About Missing Persons • Nancy Grace