(CNN) -- A federal appeals court Thursday delayed the potential deportation of Nazi war crimes suspect John Demjanjuk for at least a week, signaling concern over his ability to withstand a flight to Germany to stand trial.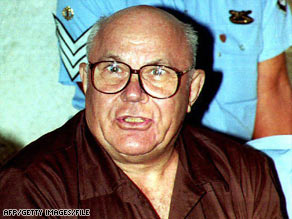 John Demjanjuk's 1986 conviction in Israel was later overturned.
The 6th U.S. Circuit Court of Appeals ordered a stay on Tuesday, less than two hours after federal immigration officials took Demjanjuk into custody at his home near Cleveland, Ohio, and only a few hours before federal agents expected to carry him aboard a plane bound for Germany.
The court ordered the government and lawyers for Demjanjuk to file new documents with the court by April 23 so a three-judge panel can further consider the case.
Demjanjuk's lawyers and family claim the 89-year-old man is too ill to travel, and that to force him to stand trial would be tantamount to torture.
The court told the government to provide a doctor's report "which forms the basis for its conclusion that the petitioner's medical condition is such that he is stable enough to travel safely."
Earlier Thursday, the Board of Immigration Appeals rejected those arguments and said it would not reopen the case.
However, with its decision, the federal appeals court indicated it might do so.
Demjanjuk is facing charges in Germany for his alleged involvement in killings at Sobibor, a Nazi death camp in Poland, during World War II.
Last month, German authorities issued an arrest warrant for Demjanjuk, accusing him of being an accessory to 29,000 counts of murder while he served as a guard at Sobibor from March to September 1943.
His attorney, John Broadley, said Demjanjuk's health problems are so significant that deporting the retired autoworker would constitute torture. He claims Demjanjuk suffers from pre-leukemia, kidney problems, spinal problems and "a couple of types of gout."
"At this point in his life, at 89 and [with] the ailments he has, he has difficulty caring for himself, compared to caring about the legal things that are going on in the United States and in Germany," said his son, John Demjanjuk Jr., on Wednesday.
He said his father was back at his home in Cleveland, Ohio, after the appeal court's stay.
John Demjanjuk Jr. said Germany's accusations allege his father was an accessory, and not that he hurt or killed anyone.
"The German prosecutor to this moment has not said that they have any evidence or will even allege that he personally hurt one person, let alone 29,000. They're basically saying he was at the place where people were killed," he said.
He noted his father has been fighting charges of Nazi war crimes for more than three decades.
The case dates back to the late 1970s, when the Justice Department accused Demjanjuk of being a Nazi guard known as "Ivan the Terrible." Demjanjuk's U.S. citizenship was revoked in 1981, and he was extradited to Israel in 1986.
He was convicted in an Israeli court in 1988 and sentenced to death, but that conviction was overturned in 1993 amid evidence that someone else was Ivan the Terrible.
A federal court restored Demjanjuk's citizenship, ruling the government withheld evidence supporting his case. But his citizenship was revoked again in 2002 after a federal judge ruled he entered the United States illegally in 1952 by hiding his past as a Nazi guard.
Demjanjuk, a Ukrainian, denies any role in the Holocaust. He says he saw action in the Soviet army and later was a prisoner of war held by the Germans.
"Germany nearly killed my father. He was a Soviet soldier, he wasn't a German," the younger Demjanjuk said.
But Rabbi Marvin Hier of the Simon Wiesenthal Center said 250,000 Jews were killed at Sobibor, and none of the guards who worked there was blameless.
"You were there for one job: Kill the Jews," he said. "And that's what they did full-time."
E-mail to a friend

CNN's Terry Frieden contributed to this report.
All About War Crimes • John Demjanjuk • Nazi Party