By Paul Vercammen
CNN





LOS ANGELES, California (CNN) -- For the second time, Phil Spector awaits a jury's decision on his fate.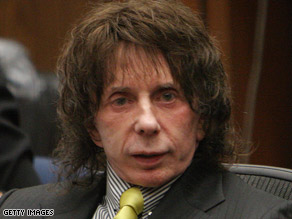 Phil Spector listens during closing arguments in his retrial on murder charges.
Considering accusations that Spector killed B-movie actress Lana Clarkson, the first jury deadlocked 10-2 in favor of conviction after 43 hours of deliberations.
The Web site Trials and Tribulations tracked those deliberations down to the second, including bathroom breaks. The site is doing the same for the second trial.
The second jury has been considering the verdict for 27 hours and the process sounds much like the first -- an eerie melody seemingly looped on an endless soundtrack by the famed music producer.
Prosecutor Alan Jackson again waits anxiously for any word of a possible murder verdict from Judge Larry Paul Fidler's staff.
The defense team hopes each passing day moves one step closer to their celebrity client's acquittal.
The jurors' lunch is wheeled in day after day on a cart into the dark, wood-paneled courtroom.
And still no decision.
The jury in Spector's first trial was made up of nine men and three women. Ten of the first 12 jurors thought Spector killed actress Lana Clarkson. Two voted not guilty.
Some of the first Spector jurors said that originally only one of their number voted not guilty, but one of their colleagues was persuaded at the last minute by the lone holdout to join him.
Both the first and second Spector murder trials have lasted about six months.
The second panel began in October with jury selection. Their odyssey has been interrupted by juror illness, a foot injury and holidays.
The six men and six women in the second trial jury will resume deliberations Monday.
What final note will they hit?
Guilty? Not Guilty?
Or will the second jury strike the same chord as their predecessors, hopelessly deadlocked over the death of Lana Clarkson, hung up in Fidler's deliberation room?
And when will we know?
E-mail to a friend

All About Phil Spector • Lana Clarkson