By KC Wildmoon
CNN





(CNN) -- "Braced for Fate" believes that Jews control American media, financial institutions and government and that federal authorities plan to confiscate guns owned lawfully by American citizens.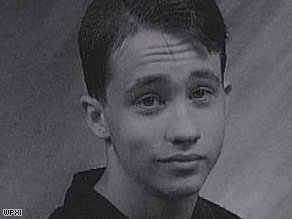 Suspect Richard Poplawski, in an undated North Catholic High yearbook photo, is in police custody.
Those chilling beliefs are revealed in posts on a white supremacist Web site that the Anti-Defamation League says were made by Richard Poplawski, the man who allegedly ambushed and killed three Pittsburgh police officers last week.
The organization, which tracks anti-Semitic activity, says Poplawski posted on the Web site first under the username "Rich P" and more recently under the ominous username "Braced for Fate."
In one post, "Braced for Fate" describes the eagle tattoo he sports in a photograph taken from Poplawski's MySpace page before the page was taken down, calling it a "deliberately Americanized version of the [Nazi] Iron Eagle."
The Anti-Defamation League says that other posts match up -- "Braced for Fate's" comments about Wellington, Florida, where Poplawski lived a few years ago, some names and some common links.
"Braced for Fate" is not shy about his beliefs.
"ZOG (Zionist-occupied government) is," he wrote in a lengthy post on March 13. "One can read the list of significant persons in government and in major corporations and see who is pulling the strings. One can observe the policies and final products and should walk away with little doubt there is Zionist occupation and -- after some further research & critical thinking -- will discover their insidious intentions."
"Braced for Fate" made just 52 posts, but in a post late last fall, he wrote that he sees himself "probably ramping up the activism in the near future."
"He didn't like the Zionists controlling the media and controlling, you know, our freedom of speech," Eddie Petrovic, who described himself as Poplawski's best friend, told CNN. "He didn't like the control of the guns that was about to happen. He believed everything our forefathers put before us and thought that it was being distorted."
Petrovic said that Poplawski received a dishonorable discharge from the Marine Corps for an incident during boot camp.
"He believed the Jews were coming, the Jews controlled society, you know, we're all under the thumb of Zionists and so on," said Mark Potok of the Southern Poverty Law Center, which tracks the movements of hate groups.
"Braced for Fate" referred to himself as a "skinhead" in some posts, and urged his compatriots to fight for the "ultimate victory for our people" by "taking back our nation."
"A revolutionary is always regarded as a nutcase at first, their ideas dismissed as fantasy," he wrote on November 1.
He feared that a total collapse of all order in the country was "inevitable," but, he wrote, that might be a blessing in disguise.
"If a total collapse is what it takes to wake our brethren and guarantee future generations of white children walk this continent, if that is what it takes to restore our freedoms and recapture our land: Let it begin this very second and not a moment later," wrote "Braced for Fate."
In another post, answering a question about what weapon he'd like to have if he were allowed only one, he said, "I guess I'd have to say my AK. Which is nice because it doesn't have to fall from the sky -- it's in a case within arms reach."

Police believe Poplawski, wearing a bullet-proof vest, fired more than 100 rounds at officers on April 4 with an AK-47, another rifle and pistol. Poplawski himself was wounded in the four-hour stand-off with police and is hospitalized.
Police initially responded to a 911 call for a domestic disturbance call from his mother. But a dispatcher's error kept police from learning there were guns in the home.

E-mail to a friend

CNN's David Mattingly contributed to this report.
All About Pittsburgh • Police • Anti-Defamation League