(CNN) -- The gunman who killed 13 people at an immigrant services center fired 98 shots in a minute or so, the police chief in Binghamton, New York, said Wednesday.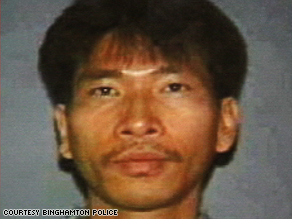 Police are trying to determine why Jiverly Wong picked the American Civic Association as his target Friday.
Jiverly Wong, a 41-year-old Vietnamese immigrant from an ethnic Chinese family, fired 87 shots from a 9 mm pistol and 11 shots from a .45-caliber handgun, Chief Joseph Zikuski told CNN.
Investigators believe the victims died almost instantly, Zikuski said.
Wong was an "accomplished marksman" who frequented a shooting range in Binghamton, the chief said, and he bragged to others that he had fired more than 10,000 rounds.
Wong strode into the American Civic Association on Friday, entered a classroom and started shooting, investigators said.
Wong had been taking English classes at the association, which helps immigrants and refugees from around the world. He was upset about recently losing a job, but police are still trying to determine why he chose to open fire at the association, Zikuski said.
The police chief said that "it's not unreasonable to think" that Wong fired his 98 shots "in just over a minute" before he shot and killed himself in the classroom.
Investigators have found that Wong came to the United States in the late 1980s, lived in Binghamton before moving to California in the early 1990s and returned to Binghamton in July 2007, Zikuski said. He became a U.S. citizen in 1995. He had married and divorced while living in California and had been convicted on a misdemeanor charge of writing bad checks there, the chief said.
At the scene of Friday's shooting, police found two semiautomatic handguns -- a .45-caliber and a 9 mm -- that were licensed to Wong.
Wong had attempted to purchase "a number of firearms," the chief said. Purchasing a gun in New York takes about two weeks, Zikuski said, and Wong would go back to a store during that period, "cancel that order and purchase another one."
Wong also was wearing body armor when he went on his spree, and since New York limits body armor purchases to law enforcement, "We're looking into that," Zikuski said.
The first funerals for the victims were held Sunday afternoon at a local mosque. An interfaith memorial service for all the victims was held Sunday evening, and hundreds of people took part in a candlelight vigil afterward.
"In a strange way," Binghamton Mayor Matthew Ryan said, "this tragedy has brought everyone together."
E-mail to a friend

CNN's Susan Candiotti contributed to this report.
All About Shootings • Binghamton