By Emily Anderson
CNN





NEW YORK (CNN) -- The trustee charged with liquidating the assets of the company owned by convicted Ponzi schemer Bernard Madoff is selling two of the company's Opening Day New York Mets baseball tickets on eBay.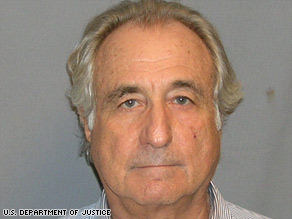 Bernard Madoff pleaded guilty in March to 11 charges related to his $50 billion Ponzi scheme.
According to the posting, the seats "are located just a few rows from the field and near the Mets' dugout at the new Citi Field." The posting lists the face value for each ticket as $500 and adds that "you will not find better seats at this price."
As of Wednesday evening, one bid had been made for $800 for the pair.
The tickets, which include "premium club access" and will remain on sale until Friday evening, are part of a season ticket package formerly owned by Bernard L. Madoff Investment Securities.
The trustee, Irving Picard, filed a motion with New York bankruptcy court Tuesday seeking to sell the season tickets as part of his liquidation efforts intended to return money to investors.
Picard said the remaining tickets in the package will be offered in an online auction beginning in mid-April.
Don't Miss
The motion values at $60,750 the two season tickets, which are in the Delta Club Gold section of Citi Field. The Mets sell individual tickets in that section for $225 to $525, depending on the date.
The Mets' home opener is Monday night against the San Diego Padres.
In a statement, Picard said the Mets agreed to transfer to the buyer privileges associated with the swanky seats, such as parking, renewal opportunities and the opportunity to purchase playoff tickets.
"The New York Mets have been very helpful in assisting us in the process of deriving value from the Mets tickets held by BLMIS," Picard said.
E-mail to a friend

All About Bernard Madoff • Corporate Fraud