(CNN) -- A man suspected in the shooting deaths of four people, including his estranged wife and daughter, in northwest Alabama was found dead in an apparent suicide, police said.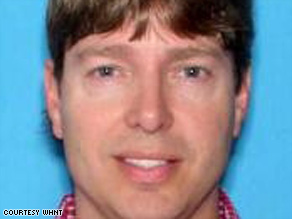 Kevin Lee Garner was suspected of killing four people, including his estranged wife and daughter, police say.
Kevin Lee Garner's body was found about 200 yards behind his home in Morgan County, Alabama, said Travis Clemmons, chief investigator for the sheriff's office in neighboring Lauderdale County. He was dead of a self-inflicted gunshot wound, Clemmons said.
Garner was a suspect in the deaths of Tammy Garner, 40, his estranged wife; Chelsea Garner, 16, his daughter; Karen Beaty, his sister; and his nephew, who Clemmons identified only as Robert, saying he did not know his last name.
The four were found dead Tuesday morning in a home in Greenhill, Alabama.
Clemmons said earlier that the home Garner lived in was burned, and that investigators were searching it.
A car belonging to one of the four victims was found at Garner's home, he said.
Garner and his wife had a hearing scheduled on Monday as part of divorce proceedings, police said. It had been postponed until Wednesday.
E-mail to a friend

CNN's Kara Yates and Colleen Wright contributed to this report.
All About Alabama