From Lindy Hall
CNN





LOS ANGELES, California (CNN) -- The on-again, off-again jury deliberations at Phil Spector's Los Angeles murder retrial are on again.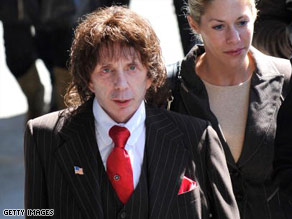 Phil Spector's retrial in the 2003 slaying of actress Lana Clarkson is in the hands of the jury.
Jurors returned to their deliberations Monday after an abbreviated first week of deliberations.
The jury has had little time to discuss whether Spector is guilty of second-degree murder in the death of actress Lana Clarkson at his home in 2003. Closing arguments wrapped up and jurors were given the case on March 26.
After a couple of days of deliberation, jurors had two days off last week because of an extended court holiday. They deliberated only a couple of hours on Wednesday before they were dismissed for the rest of the week because a juror was ill.
The six men and six women were brought into the courtroom for a hearing Monday, along with five alternates. Superior Court Judge Larry Paul Fidler told jurors that because of "heightened media interest in the case," he wanted to inquire if anyone had seen or heard -- even inadvertently -- any information about the case.
One juror said his wife was watching television when he was in the other room and something was said, but told Fidler he "didn't hear anything." Another juror said he had accidentally heard something on the radio on the way to court Monday. Both said the incidents did not affect their ability to move forward with deliberations.
Fidler's inquiry was prompted by prosecutor Alan Jackson, who raised concerns after Spector's defense attorney, Doron Weinberg, wrote a response to an editorial in the Los Angeles Times newspaper on the issue of expert witnesses.
Fidler advised jurors it would be best to avoid media reports while in deliberations, saying, it "makes life easier."
Spector, 69, is charged with second-degree murder in the death of Clarkson, 40, who was found dead of a gunshot wound through the roof of her mouth in February 2003 at Spector's Alhambra, California, home.
A mistrial was declared in Spector's first trial, in September 2007. After deliberating 15 days, jurors told Fidler -- who also presided at that trial -- they were unable to reach a verdict. Spector also was charged with second-degree murder in that trial.
Defense attorneys contend Clarkson could have committed suicide.
Unlike the first trial, where jurors could only deliberate the second-degree murder charge, this jury will be able to consider the lesser charge of involuntary manslaughter. If convicted on the second-degree murder charge, Spector faces 18 years to life in prison, and if convicted of involuntary manslaughter, he faces up to four years in prison.
Clarkson starred in 1985's "Barbarian Queen" and the 1987 spoof "Amazon Women on the Moon," and was working as a VIP hostess at Hollywood's House of Blues at the time of her death.
Spector has won two Grammy Awards and was inducted into the Rock and Roll Hall of Fame in 1989, but he stayed out of the public eye for two decades before his 2003 arrest in Clarkson's death.
In the 1960s, he became famous as the man behind the "Wall of Sound" -- an instrumentally dense swirl of melody and percussion underlying such tunes as the Ronettes' "Be My Baby," the Righteous Brothers' "You've Lost That Lovin' Feeling" and Ike and Tina Turner's "River Deep, Mountain High."
He later produced the Beatles' "Let It Be" album, John Lennon's "Imagine" and the Ramones' "End of the Century."
E-mail to a friend

All About Lana Clarkson • Phil Spector