(CNN) -- A polygamist sect is planning an event today to mark the first anniversary of a raid in which more than 400 children were removed from its Texas ranch.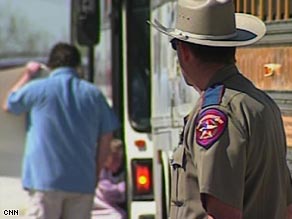 A child is placed on a bus during last year's raid at the Yearning for Zion ranch in Texas.
Nearly all the children seized April 3, 2008, from the Fundamentalist Church of Jesus Christ of Latter-Day Saints' compound, the Yearning for Zion Ranch, were returned to their parents months later.
The Texas Supreme Court ended a legal battle by ruling the state had no right to remove the children because there was no evidence they faced imminent danger of abuse.
The Fundamentalist Church of Jesus Christ of Latter-Day Saints, or FLDS, will hold a "gathering" at Fort Concho in San Angelo, Texas, to commemorate the anniversary, according to a posting on a Web site supporting the sect.
The raid was among several events that thrust the FLDS, a secretive and isolated offshoot of the mainstream Church of Jesus Christ of Latter-day Saints, into the spotlight. The 10,000-member sect openly practices polygamy in the twin border towns of Hildale, Utah, and Colorado City, Arizona; on the ranch outside of Eldorado, Texas; and on compounds in Canada and Mexico.
Critics of the FLDS say underage girls are forced into "spiritual" marriages with older men and sexually assaulted. But FLDS members say that no sexual abuse takes place and that they are being persecuted for their religious beliefs.
Texas' Child Protective Services agency said the children were removed because in interviews at the ranch, it uncovered a "pervasive pattern" of sexual abuse through forced marriages between young girls and older men. Young boys at the ranch, officials said, were groomed to be perpetrators through the sect's beliefs.
However, the Texas Supreme Court let stand a lower court's ruling that the children's removal was unwarranted.
The Texas Department of Family and Protective Services, which oversees the Child Protective Services division, said in a December report on the case that it "is about sexual abuse of girls and children who were taught that underage marriages are a way of life. It is about parents who condoned illegal underage marriages and adults who failed to protect young girls -- it has never been about religion."
Following the raid, the authenticity of the initial calls that prompted it was questioned. Police said that a family shelter crisis line received multiple calls in the days before the raid from a caller claiming to be Sarah Jessop Barlow, age 16. The girl reported that she had an 8-month-old baby and was pregnant again, and that she was married to a Dale Barlow, who abused her physically and sexually.
At least one of the telephones used by "Sarah Barlow" to make the calls has been traced to a Colorado woman. Police have named Rozita Swinton a person of interest in connection with the reports of abuse at the ranch, but she has not been charged. However, Swinton, who court documents allege has a history of making false reports of sexual abuse to police and other agencies, is facing charges of providing a false report to authorities in an unrelated case.
The FLDS first became known to many when Warren Jeffs, its leader and "prophet," was arrested in August 2006. At the time, Jeffs was on the FBI's Ten Most Wanted list and was wanted in Utah and Arizona.
After a highly publicized trial in Utah, Jeffs was convicted in September on two counts of being an accomplice to rape. He was accused of using his religious influence over his followers to coerce a 14-year-old girl into marrying her 19-year-old cousin. He was sentenced to two consecutive prison terms of five years to life.
Jeffs is jailed in Arizona, awaiting trial on four charges of being an accomplice to sexual conduct with a minor. He was facing charges of sexual assault of a child in Texas when he was indicted last year on a first-degree felony count of aggravated sexual assault. Some FLDS members were also indicted on charges including conducting the unlawful marriage of a minor, bigamy and evidence tampering.
One child initially removed from the ranch, then returned, has been taken back into foster care. The child, a 14-year-old girl believed to have married Jeffs, was taken into state custody in August after child protection officials alleged her parents did not take measures to limit her contact with men involved in underage marriages. Court proceedings are scheduled for September to determine whether she will remain in state custody permanently. She is the only child from the ranch still in foster care.
The mainstream Mormon church, the Church of Jesus Christ of Latter-day Saints, renounced polygamy a century ago.
E-mail to a friend

All About Fundamentalist Church of Jesus Christ of Latter Day Saints • Texas Supreme Court • Warren Jeffs