(CNN) -- Authorities are searching a river and sifting through garbage as part of their investigation into the disappearance of an 8-year-old Tracy, California, girl, police said Thursday.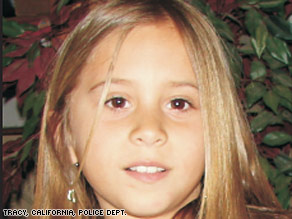 Sandra Cantu, 8, disappeared on March 27, according to police in Tracy, California.
Sandra Cantu was last seen March 27, when she came home from school, kissed her mother and left to play with a friend who lives a couple of homes away.
A short time later, she left that home to go to another friend's home, according to a spokeswoman for her family. The child was wearing a pink Hello Kitty T-shirt and black leggings. She was reported missing about 8 p.m. that day.
"We haven't ruled anybody out," including family members and residents of the mobile home park where Sandra lives, Lt. Jeremy Watney said Thursday.
Police plan to conduct a water search on the Old River on Thursday, Watney said. No leads have pointed police in the direction of the river, he said, but, "it's just one of those things we're doing to cover all the bases."
In addition, police are sifting through "everybody's trash in the city of Tracy" to cover another base, Watney said. "If we don't do it now, we won't be able to do it later."

Watch CNN report on Sandra's disappearance »
Police released few other details about the investigation into Sandra's disappearance. The girl's father is scheduled to be interviewed by police Thursday, Watney said, but characterized it as a routine interview and would not divulge whether he would be given a polygraph test.
Don't Miss
Police have received 569 leads as part of their investigation and have been working through them, he said. A reward for information in the case leading to Sandra's whereabouts was up to $9,000, but could increase as donations were still being processed, he said.
Authorities planned to release a videotape of the girl showing additional images of her from birthdays and other family events later Thursday, Watney said.
"Are people getting tired? Yes," he said. "Are they getting frustrated? Absolutely." But he said police are still optimistic and upbeat.
"I'm really starting to get a feel that we're getting onto some things that are leading us in the right direction," Watney said. He would not elaborate.
Call with tips:
Police in Tracy, California, are asking anyone with information about Sandra Cantu to call the Tracy Police Department at 209-831-4550 or the National Center for Missing and Exploited Children at 1-800-843-5678.


On Tuesday, authorities impounded and searched a car -- the fourth one to be seized -- that was parked near the mobile home park.

On Monday night, Tracy police and FBI agents searched six locations, some in the Orchard Estates Mobile Home Park and some in Tracy. All of the places were connected to two men who live in the mobile home park, officials said.

Authorities have not called the men suspects and have not named them publicly. They did not say how or if they might be related to the case.

Police have said they do not believe Sandra ran away. A surveillance video showed her playing in the mobile home park, but police have not released those images.

A dozen agencies are involved in the search. The number of searchers swelled over the weekend, and a similar effort is likely Saturday and Sunday, Watney said.

The girl's aunt, Angie Chavez, told CNN Headline News' Nancy Grace that Sandra's father lives in Mexico and was not around the day she disappeared.
Tracy is about 60 miles east of San Francisco.
E-mail to a friend

All About Missing Children