NEW YORK (CNN) -- For Cathy Miller and her family, the night of Monday, February 17, 1986, was pretty much like any other in the quiet Georgia city of Warner Robins.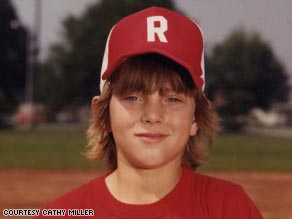 Chuck Mauk, 13, was shot in the back of the head after a bike trip to the store to buy bubble gum.
Then came a knock at the door, just around 8 p.m.
A friend of Miller's son, Chuck Mauk, came to alert the family that the 13-year-old boy may have fallen off his bicycle and was hurt.
Chuck was sprawled on the pavement and bleeding near his bicycle in a parking lot a few blocks from home. He had gone to a nearby store for candy and gum, an almost daily ritual.
As Miller ran down the street with Chuck's stepfather and his 6-year-old stepbrother in tow, a terrible feeling of dread overwhelmed her. "I could just tell it was worse.'' A crowd of onlookers was already forming.
"By the time I got there, my husband stopped me from getting closer,'' Miller recalled. Police arrived and soon determined Chuck had been killed by a gunshot wound to the back of the head, according to investigators.
"And that's when it all changed,'' Miller said.
Twenty-three years later, Chuck Mauk would have been 37 years old. To this day, his shooting death remains a vexing and tragic mystery. The case is unsolved but under active investigation, despite memories fading with the passage of time.
At the time of the shooting, several people said they saw Chuck with his bike speaking to a man in his late teens or early 20s. The man was behind the wheel of a white car, possibly a Buick or an Oldsmobile Cutlass, said Harry Enckler, a retired captain who ran the investigation at the Houston County Sheriff's Office.
The conversation may have lasted as long as 20 minutes, witnesses said. Around the same time, some heard a gunshot and saw a white car speed around a corner.
"I saw Chuckie laying there aside his bicycle, still had his hand on a package of bubble gum," Enckler said. "The shot killed him instantly,'' Enckler added, citing autopsy findings.
Enckler said he was so close to the case that it has played a big role in the overall tenor of his career in law enforcement. He recalls nightmares of Chuck lying on the ground in a pool of blood. "I always woke up, and there was still nobody in jail.''
In the days and months after the shooting, the owner of every white car in Houston County was interviewed. Not a single suspect was found, but Enckler recalled there were a few people of interest at the time and, to this day, they have not been eliminated.
One of the factors making this case so difficult is a lack of physical evidence. If Chuck had touched the side of the car or there had been any contact between him and his assailant, the case might have been easier to crack, Enckler said.
Enckler, now 63 and retired in Gatlinburg, Tennessee, recently traveled back to Georgia to review the case files with investigators currently working on it. In his view, the position of the body and the location of the bullet wound in the back of the head indicate the boy was trying to move away from the car, either by foot or on his bicycle.
A popular blond-haired, blue-eyed seventh-grader, Chuck loved Pac Man, pool, skateboarding and, most of all, playing shortstop on his Little League baseball team, the Redlegs. He had the highest batting average on the team, Miller recalled proudly in an interview looking back on her son's slaying.
Miller fondly recalled that Chuck would take little newspaper clippings and paste them onto the back of his Little League baseball card, which Miller laminated and has had in her wallet since he died.
"Chuckie loved to see his name in the paper. It's so sad it ended this way, what a sad coincidence,'' she said, referring to more than two decades of local and national print and electronic media coverage of the boy's shooting death.
Don't Miss
Miller, who is 58 and schedules surgeries at an OBGYN clinic, believes her son knew his killer. ''He wouldn't talk to strangers for this long."
She wonders how someone could keep such a dark secret for so many years. "I want to be able to look at the person who did it in the eyes and for him to tell me why he did it,'' Miller said.
"I go to bed with it, I wake up with it, it's who I am. It's just who I am,'' added Miller, who was treated several years later for panic attacks and post-traumatic stress disorder, which she said has been brought under control.
"I just couldn't keep being bitter and angry. It wasn't helping me.''
Miller keeps her son's clothes, school papers and other belongings boxed in a closet in her home. She doesn't look at them often, but they are always nearby. Soon after the shooting, Miller and her husband sold the house and moved several miles away to avoid passing by the scene of the crime in their daily travels.
In this city of about 60,000, the case still resonates strongly, and it has taken on a local lore of its own, even to this day. In the Warner Robins of the 1980s, about half a dozen slayings took place each year in the entire county, which is in central Georgia, about 100 miles south of Atlanta.
"We had our share of crazy homicides, but this was strange,'' Enckler said. "This just didn't happen in our area where a 13-year-old boy was gunned down like that.''
Lt. Jon Holland, who is overseeing the investigation at the Houston County Sheriff's Office, said his team will never give up searching.
"We won't close it. We will not close this case. It'll remain open until it's resolved,'' Holland vowed.
Two of his investigators who have received cold-case training at a federal facility in Georgia devote eight to 10 hours a week to finding Chuck Mauk's killer.
"When Chuckie Mauk's name is mentioned, people remember what happened,'' Holland said.
If you have information about this case, call the Houston County Sheriff's Office at 478-542-2085 or the 24-hour tip line at 478-542-2080.
E-mail to a friend

All About Murder and Homicide • Nancy Grace