(CNN) -- Eight-year-old Sandra Cantu came home from school, kissed her mother, and left to color and play with a friend who lived a couple of houses down.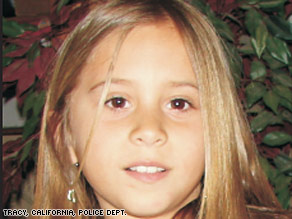 Sandra Cantu, 8, disappeared on Friday, according to police in Tracy, California.
That was at 3 p.m. Friday.
By Tuesday -- despite an intense search by hundreds of search-and-rescue personnel and volunteers over three days -- the little girl in the pink Hello Kitty T-shirt and black leggings had yet to be found.
The mysterious disappearance of Sandra from the Orchard Estates Mobile Home Park in Tracy, California -- about 60 miles east of San Francisco -- has baffled law enforcement officials. A dozen different agencies are looking for her.

Watch Nancy Grace on the case »
"The entire weekend was filled with just a massive search effort -- a manhunt involving multiple freeways, agents checking cars, volunteers going door-to-door," said Sebastian Kunz, a reporter with KNEW-AM radio in San Francisco, who is covering the case. "A lot of people are pulling for this little girl."
Call with tips:
Police in Tracy, California, are asking anyone with information about Sandra Cantu to call the Tracy Police Department at 209-831-4550 or the National Center for Missing and Exploited Children at 1-800-843-5678.


On Monday night, Tracy police and FBI agents searched six locations, some in the mobile home park and some in Tracy, and all of them connected to two men.

Authorities did not call the men suspects, and did not name them publicly. They said both live in the mobile home park but did not say how or if they are related to Sandra.

"We're looking for evidence that will lead to the discovery of Sandra's whereabouts," Tracy Police Sgt. Tony Sheneman told reporters Monday night. "We operate on the assumption she is alive and well."

Sandra came home from school about 3 p.m. Friday. She asked to go play with a friend who lived a few houses down in the same mobile home park.

"I told her it was OK," Sandra's mother, Maria Chavez, told CNN's Nancy Grace, dabbing tears. "And that was the last time I saw her."

Surveillance camera footage recorded the girl playing in the park. But her parents reported her missing about 8 p.m. Friday, when she was supposed to be visiting a second friend.

"We just know that she had gone to the first house, and played for just a very short time. And then she was on her way to another friend's house," said Lisa Encarnacion, the spokeswoman for Sandra's family. "And we don't know, we can't confirm that she was there or she was not."

The mobile home park has less than 100 units. There are about 80 registered sex offenders living in a five-mile radius around it. The family has not looked at the list of offenders to see if they may know any of them, Encarnacion told Nancy Grace.

And so the search continues.

A reward fund set up for information leading to Sandra's return grew to $7,000 Monday. More than 150 tips poured in, police said.
But, at least for now, none has yielded information on the 4-foot-tall, brown-haired, brown-eyed girl.
E-mail to a friend

All About Missing Children