From Lindy Hall
CNN





LOS ANGELES, California (CNN) -- A six-man, six-woman jury began deliberating Thursday whether music producer Phil Spector is responsible for the death six years ago of an actress in his home.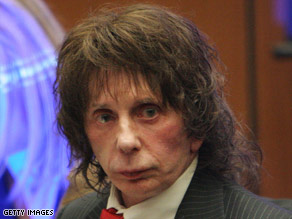 Music producer Phil Spector is charged with second-degree murder in the death of actress Lana Clarkson.
Spector, 69, is charged with second-degree murder in the death of Lana Clarkson, 40, who was found dead of a gunshot wound through the roof of her mouth in February 2003 at Spector's Alhambra, California, home.
A mistrial was declared in Spector's first trial, in September 2007. After deliberating 15 days, jurors told Superior Court Judge Larry Paul Fidler that they were unable to reach a verdict. Spector was also charged with second-degree murder in that trial.
Thursday morning, prosecutors wrapped up their rebuttal in closing arguments to jurors.
"Philip Spector is guilty of Lana Clarkson's murder," Deputy District Attorney Alan Jackson said. "She is entitled to your justice. ... Philip Spector had his hand on that gun, and Lana Clarkson ended up dead."
Defense attorney Doron Weinberg, who spoke Tuesday and Wednesday, emphasized to jurors that the case hinges on circumstantial evidence and said the possibility that Clarkson committed suicide cannot be ruled out.
Jackson, in his rebuttal, disputed points the defense offered as "proof" that Spector did not murder Clarkson.
Deputy District Attorney Truc Do told jurors in closing arguments this week that Spector was "a very dangerous man" who "has a history of playing Russian roulette with women -- six women. Lana just happened to be the sixth."
After Thursday morning's session, both Jackson and Do went to the first row of the gallery, where Clarkson's mother, Donna, was sitting, and gave her a hug.
In the 2007 trial, Spector's attorneys argued that Clarkson -- who starred in 1985's "Barbarian Queen" and the 1987 spoof "Amazon Women on the Moon" but was working as a VIP hostess at Hollywood's House of Blues at the time of her death -- was depressed over a recent breakup and grabbed a .38-caliber pistol to kill herself while at Spector's home.
But prosecution witnesses painted Spector as a gun-toting menace. Five women took the stand to tell harrowing stories of being threatened with firearms by Spector. And his driver testified that he heard a loud noise and saw the producer leave the home, pistol in hand, saying, "I think I killed somebody."
Spector's second trial began in October. Fidler ruled last week that jurors can consider the lesser charge of involuntary manslaughter against Spector.
If convicted of second-degree murder, Spector could face a prison sentence of 15 years to life, according to the Los Angeles County District Attorney's Office. An involuntary manslaughter conviction could bring a prison sentence of up to four years.
Spector has won two Grammy Awards and was inducted into the Rock and Roll Hall of Fame in 1989, but he stayed out of the public eye for two decades before his 2003 arrest in Clarkson's death.
In the 1960s, he became famous as the man behind the "Wall of Sound," an instrumentally dense swirl of melody and percussion underlying such tunes as the Ronettes' "Be My Baby," the Righteous Brothers' "You've Lost That Lovin' Feeling" and Ike and Tina Turner's "River Deep, Mountain High." He later produced the Beatles' "Let It Be" album, John Lennon's "Imagine" and the Ramones' "End of the Century."
E-mail to a friend

CNN's Paul Vercammen contributed to this report.
All About Phil Spector • Lana Clarkson