(CNN) -- Florida police said a woman accused of abducting an infant by posing as an immigration officer is refusing to say anything about the case. She turned the baby over to authorities Tuesday.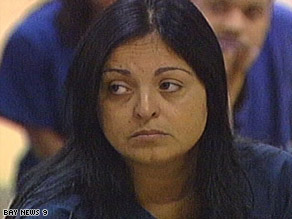 Amalia Tabata Pereira is accused of kidnapping, false imprisonment and child abuse.
"We may never know what she was thinking or what she was planning to do with the baby," Plant City, Florida, police spokesman Capt. Darrell Wilson said Wednesday.
"She invoked the right to remain silent, so all questioning stopped," Wilson added.
The infant was turned over to sheriff's deputies Tuesday evening some 10 hours after a statewide Amber Alert was issued. Authorities said the child appeared to be in good health.
Bond was set Wednesday at $750,000 for the suspect, 43-year-old Amalia Tabata Pereira, during a hearing in Manatee County court. Pereira, the wife of a minor-league baseball player in the Pittsburgh Pirates organization, faces charges of interference with child custody, kidnapping, false imprisonment and child abuse, authorities said.
According to police, a woman claiming to be an immigration official spoke to migrant worker Rosa Sirilo-Francisco at the Hillsborough County Health Department and told her she had to turn over her 2-month-old daughter Sandra Cruz-Francisco or face deportation. The baby's parents are from Mexico and had taken the child to the clinic for a routine check-up, according to Wilson.
After giving up the child, the mother was told by a relative in Georgia that federal immigration officials would not follow such a procedure, so the parents reported their daughter missing.
Ten hours later, Pereira surrendered the child to Manatee County sheriff's deputies, according to authorities.
Pereira's husband, Jose Tabata, issued a statement saying he was "shocked to be told today that my wife has been arrested for kidnapping. I am hurt, frustrated, and confused by her actions."
Pirates President Frank Coonelly said in a written statement: "The Pirates organization will continue to do anything and everything we can to assist and support Jose during this difficult personal time."
Police say Tabata is not a suspect.
"Our primary focus is and was on her, we got the right person and he had no knowledge or anything to do with this," said Wilson of the Plant City police, referring to Pereira.
E-mail to a friend

CNN's John Couwels contributed to this report.
All About Florida • Kidnapping