NEW YORK (CNN) -- Letters and e-mails expressing the anger, sadness and disbelief felt by the victims of convicted swindler Bernard Madoff were made public Friday in a Manhattan court.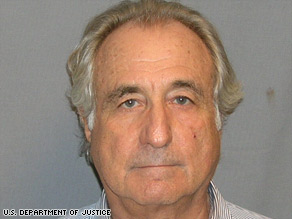 Bernard Madoff is believed to have bilked investors out of billions of dollars.
The letters were sent to the prosecution and the presiding judge before Madoff pleaded guilty last week to 11 counts stemming from a Ponzi scheme estimated to have bilked thousands of investors out of billions of dollars.
"I falsely believed that Madoff Securities was a conservative and safe place to invest my money, our life savings, based on the charade he perpetrated ... along with the belief that the SEC was protecting me against any possible fraud," one e-mail read.
"Obviously, I was wrong on all counts. ... everything I worked for and all I created over the last 30 years is gone!"
Don't Miss
Another e-mail said, "The man single-handedly destroyed people's lives, cripples people ... forever! ... Let him start over just like his victims will have to."
One angry investor asked, "What about the public flogging he deserves?" while another lamented: "Your scheme has wiped out our savings, our retirement funds ... and our son's college fund. ... I sincerely hope that you spend the remainder of your natural life in a prison."
Among the sad and at times profane accounts from the convicted swindler's victims, one ironic e-mail stood out:
Penned by an African scam artist whose name was withheld, the letter expressed an urgent need for an American intermediary willing to give up details of his bank account to the author so that he could move his funds from the Republic of Congo to Dubai.
The author promised a return of 10 percent of his alleged $350 million funds, and even offered an preemptive apology in case his proposal offended the readers' moral values.

The only request he made was that the intermediary provide him with "absolute assurance that the funds will be safe and you will not sit on [the money] when it is transferred to your account."
A judge denied a request to let Madoff, 70, stay out of jail until his June 16 sentencing. He faces up to 150 years in prison.
E-mail to a friend

CNN's Ekin Middleton contributed to this report.
All About Bernard Madoff • Bernard L. Madoff Investment Securities LLC