By Ted Rowlands
CNN






LOS ANGELES, California (CNN) -- In his latest mug shot, Charles Manson's wild-eyed stare is gone, as is most of his hair. Except for the swastika he carved into his brow during his murder trial, he could be any gray-bearded senior citizen.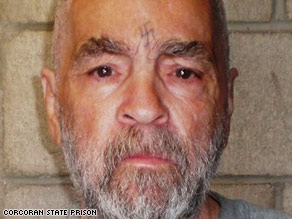 A new photo of Charles Manson shows his gray beard and the swastika tattooed into his forehead.
If the photo authorities released early this week is any indication, the leader of a murderous band called "The Family," has mellowed some after almost 40 years in a California state prison.
He has had a lot of alone time.
Manson, 74, is locked away in protective custody, according to Sabrina Johnson, a spokeswoman at Corcoran State Prison in Corcoran, about 150 miles northwest of Los Angeles.
Manson has his own cell. His exposure to prison neighbors that include mass killer Juan Corona and Robert F. Kennedy's assassin, Sirhan Sirhan, is very limited, Johnson said.
Manson and four others -- Susan Atkins, Patricia Krenwinkel, Charles "Tex" Watson and Leslie Van Houten -- were convicted of murder and other charges in connection with a two-night rampage that left pregnant actress Sharon Tate and seven others dead.
Manson and the four "family" members' death sentences were overturned during the 1970s, when the death penalty laws were ruled unconsitutional. He is quietly serving out his life sentence. Although he once frequently gave bombastic rants on national television, he hasn't granted a media interview in years.
Don't Miss
Manson receives a lot of mail, and many requests from people who want to visit him, Johnson said. He still occasionally sees a few people.
"Over the years, he's taken some people off the visitor list and put them back on, " Johnson said. "He has the same rights as any other prisoner."
Manson has been disciplined in the past, losing privileges, but he's now in good standing and good health, Johnson added.
All members of the "Manson family" have been up for parole multiple times over the past four decades, but it has never been granted.
Manson's next parole hearing is in 2010. He did not show up for the last one in 2007.
His mug shot, which instantly made its way around the world over the Internet, was taken as part of a regular update of inmate images at the prison. Its release comes ahead of the 40th anniversary of the "Manson family" killings in August 1969.
Van Houten, who was 19 at the time of the killings, was convicted in the murders of Leno LaBianca, a wealthy grocery store owner, and his wife, Rosemary. Van Houten was accused of stabbing Rosemary LaBianca 14 to 16 times in the back.
Van Houten was also convicted of conspiracy in Tate's death and four others at the actress' Beverly Hills home. Tate was about eight-and-a-half months pregnant, and her baby also died in the attack. Manson, Atkins and Krenwinkel also were convicted for those murders.
Atkins, who has been declared terminally ill, was denied a compassionate release from prison in July 2008. She is believed to have been one of the people who stabbed Tate and scrawled the word "pig" in blood on the door of the home the actress shared with director Roman Polanski.
In May 2008, authorities dug for bodies at the Inyo County, California, ranch where Manson and his followers once lived, after police learned that testing had indicated human remains might be buried there. According to authorities, nothing was found.
E-mail to a friend

All About Charles Manson • Parole