(CNN) -- A New Mexico man has admitted to sending threatening letters filled with white powder to dozens of banks in 2008 out of what federal agents said was anger over his losses in a failed bank.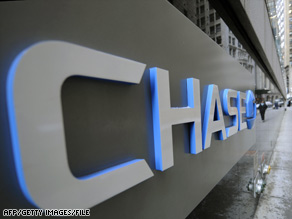 Richard Goyette was charged with mailing powder-laced hoax letters to 52 Chase banks and government offices.
In court records, federal agents state that Richard Goyette was angry over losing more than $63,000 in his investments in Seattle-based lender Washington Mutual, which was seized by regulators and sold off to JPMorgan Chase in September. Goyette pleaded guilty Monday to two counts of sending threatening material through the mail, entering his plea in a federal court in Amarillo, Texas, where the letters were mailed.
Goyette, 47, of the Albuquerque suburb of Tijeras, New Mexico, faces up to 10 years in prison, according to his plea agreement. He was arrested in February on charges of mailing 64 powder-laced hoax letters to 52 Chase bank locations and several government regulatory offices, saying any person who breathed the powder would die within 10 days.
He was also accused of threatening to bomb JP Morgan Chase's corporate headquarters "to inflict financial damage to your company." Goyette believed the conglomerate "stole Washington Mutual Bank from its shareholders" with the help of regulatory agencies, and sent one threatening letter "for every $1,000 he lost," according to charging documents in the case.
In those documents, agents cite an e-mail in which Goyette said he would "pursue any path to get the return of my investment." Investigators traced that and other e-mails to two colleges in Albuquerque where Goyette had been a student.
Washington Mutual lost billions of dollars from bad loans as the U.S. real-estate market collapsed, becoming the largest U.S. bank to fail to date. Its stock plunged from about $45 a share in mid-2006 to about 16 cents in September 2008, and it was facing a run on its deposits before regulators stepped in.
E-mail to a friend

All About JP Morgan Chase & Co. • Washington Mutual Inc.