By Eliott C. McLaughlin and Patrick Oppmann
CNN





VANCOUVER, Washington (CNN) -- When 13-year-old Alycia Nipp didn't come home from a trip to Wal-Mart, her family had no idea where she was, but a tracking device was transmitting the location of her alleged killer.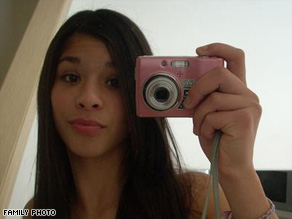 Alycia Nipp, 13, was a free spirit, her aunt says, and liked to collect neon drinking straws.
The quirky seventh-grader, who went by "Licy," could tell you the origin of every neon drinking straw in her collection and she "sewed buttons on everything," said her aunt, Amber Hager.
Her family thinks her free-spirited nature may be the reason she walked through a field popular with transients -- a field she'd been warned to stay away from and where her body was found February 22.
Licy's family had reason to be cautious. Hager was raped twice as a teen and Licy's grandmother was kidnapped as a child, Hager said, so the family was extra vigilant with Licy and Hager's young daughters.
"We all made Licy the promise that it would never happen to her. The cycle would end," said Hager, who is acting as family spokeswoman. "Now we're left wondering: What didn't we say? What didn't we do? How come she didn't listen?"

Watch Hager advise parents to keep kids close »
Darrin Sanford, 30, was one of several homeless people living near the field in an abandoned home slated for demolition, police said.
He was convicted in 1998 of communicating with a minor for immoral purposes and luring minors with sexual motivation; he was sentenced to probation, said a Clark County sheriff's report. When he was released from jail in January, following a November probation violation, Sanford was fitted with a global positioning tracking unit on his ankle, according to the Washington Department of Corrections.

Learn more about the device Sanford wore »
Sanford was wearing the device seven weeks later when he tried to rape Licy before beating and stabbing her in a field a couple of blocks from the street where she lived, according to police.
Authorities said they used GPS to corroborate Sanford's confession. A Clark County judge this week postponed his arraignment until June so the defense and prosecution can prepare for death penalty arguments.
Sanford's defense attorney Michael Foister declined to comment on the allegations against his client.
Debate over GPS
The slaying rocked the enclave of Hazel Dell in Vancouver, a 15-minute drive from Portland, Oregon, and serves as fodder for those who claim GPS is used too broadly and bluntly as a tool for keeping tabs on offenders.
"They can't monitor it live, and even if you could monitor it live, him being in the field wouldn't have told you [if] he was murdering the girl," said Evan Mayo-Wilson, an Oxford University lecturer who has studied the use of GPS.
There are two types of GPS monitoring: active, in which the offender's whereabouts are surveyed in real-time, and passive, in which probation or parole officers check an offender's movements after the fact.
Sanford was passively monitored, said Anmarie Aylward, the Washington DOC's program administrator.

Watch Aylward explain how Sanford was monitored »
Sanford's History
Darrin Eugene Sanford was convicted in 1998 of communicating with a minor for immoral purposes and two counts of luring minors with sexual motivation. He was placed on probation, which he violated three times before he was arrested in connection with Alycia Nipp's murder:
• On November 15, 2006, Sanford was jailed for failing to register as a sex offender. He was released July 31, 2008, and ordered to wear a GPS anklet.
• He was then detained August 20 for being in contact with a minor and failing to register. He was released October 19, again with an ankle bracelet.
• On November 24, authorities arrested Sanford for a misdemeanor property violation. He was released with a GPS device January 3, just 49 days before Licy's murder.
-- Source: Washington Department of Corrections
Both types of GPS are important tools for law enforcement, Mayo-Wilson said, but the technology must be coupled with other efforts to reduce recidivism, including treatment programs, personal visits and interviews with neighbors, family members and employers.
Sex offenders should be assessed on a case-by-case basis, and supervision programs must be based on fluid assessments that weigh the likelihood of reoffense, said Peter Ibarra, a sociologist at the University of Illinois-Chicago who studies the use of GPS in stalking and domestic violence cases.
"You have to use it very responsibly," Ibarra said. "It's a technology that cannot stand alone, especially if you're thinking about using it with offenders who imperil the public."
Sanford was registered as a Level 3 sex offender, the category considered most likely to reoffend, according to the Clark County Sheriff's Office. He was listed as homeless on the state sex offender registry, one of 34 transient sex offenders in Clark County. There are eight homeless Level 3 offenders registered in Clark County.

See how each state handles GPS monitoring of sex offenders »
Sanford was living in a vacant home near an overgrown field where Licy's parents sometimes played paintball. The field, littered with trash, has "No Dumping" signs along its periphery and is buttressed by fast-food joints, Chinese restaurants and strip malls. The air smells of frying oil.
Resident Nick Holden, whose daughter was Licy's friend, told The Oregonian newspaper that the field was a popular shortcut -- "a kid highway." Though it wasn't necessarily deemed unsafe, he told the paper, "you ask the kids to not go alone."
Licy was told just that, but on February 21, as she and a friend returned from Wal-Mart, Licy said she wanted to cut through the field. Her friend declined, Hager said.
Police: Sanford unsure of his weapon
Sanford told detectives he met Licy near the vacant homes and walked with her to an isolated area of the field, police said. There, he attempted to have intercourse with her "but wasn't able to complete the sexual act," according to the probable cause affidavit filed in court.

Watch Sanford's mother say she wishes he was dead »
"After she giggled at him," continued the affidavit, "he was overcome with a violent rage and hit her with something in the back. She turned to face him and he kept hitting her, knocking her to the ground."
Sanford told police he wasn't sure what he hit her with -- maybe a stick, knife or beer bottle, the affidavit said. The 180-pound Sanford left the body but came back later and moved Licy, a scant 100 pounds, to an area where her stepfather found her early the next morning, according to the affidavit.
"His GPS unit verified that he was in the area and his movements," the affidavit said.
Attempts by CNN to reach Licy's mother and stepfather, Maranda and Jason Hannah, were unsuccessful.
On the day before his 20th birthday in 1998, Sanford was placed on probation. According to a sheriff's office report, a group of minors, ages 8 to 11, reported that Sanford had offered them money for oral sex. The youngsters fled, but Sanford approached them again in a sparsely wooded area of the playground, asking them if they wanted to go home with him to "play house," the report said.
Sanford violated his probation three times between November 2006 and November 2008, the DOC said. When he was released in January, he was required to check in daily with a probation officer, which he did the day before Licy's murder and the day after her body was found.
Technology, offenders misunderstood
Experts say GPS can create a false sense of security because its capabilities are overestimated. Jill Levenson, an associate professor of human sciences at Lynn University in Boca Raton, Florida, said many people believe it is "some magic bullet or panacea that prevents crimes."
Levenson also concurs with other experts who say the technology is used too sweepingly. Twenty-seven states have some mandatory requirement that the devices be used on sex offenders, according to the National Conference of State Legislatures. Only six states have no specific provisions for such monitoring.

See data »
Most sex offenders are neither violent nor pedophiles, and they re-offend in about one of 20 cases, said Levenson, who studies sex crime policy.
Because the media focus on the most sensational crimes, politicians often focus their energies on combating the violent incidents rather than the more common occurrences, such as people being sexually assaulted by those they know, she said.
UIC's Ibarra called it a "knee-jerk reaction" by lawmakers. He said he notices that "legislators often propose this kind of [GPS] requirement in the aftermath of some notorious act."
Added Oxford's Mayo-Wilson, "[GPS] could be used effectively to help shape behavior, but it's being used too bluntly."
GPS is more likely to work with low-level offenders while the technology's deterrent effect on the most dangerous perpetrators is limited, Levenson said.
"[GPS] is not necessarily going to deter people from having sexually deviant intentions," she said. "Many crimes are more impulsive and opportunistic, and that level of thinking may not go into it."
Homelessness itself poses problems among sex offenders because unstable living conditions can increase recidivism, Levenson said. Many states have enacted laws limiting where sex offenders can live, forcing more offenders to the streets.
According to a 2007 report by the Council of State Governments, 29 states have residency restrictions for sex offenders. Washington, which the DOC says is home to about 300 homeless sex offenders, forbids them from living within 880 feet of a school or daycare.
An example of residency restrictions exacerbating the problem is in California, said Robert Coombs of the California Coalition Against Sexual Assault. Since 2007, when California implemented its version of Jessica's Law -- which bars registered sex offenders from living within 2,000 feet of a school, park or places where children congregate -- homelessness among paroled sex offenders spiked 800 percent, Coombs said.
In large metro areas like Los Angeles and San Francisco, "the concentration of schools and parks is so high, the entire jurisdiction becomes largely off limits for housing," Coombs said.
The Justice Department did not respond to repeated requests to discuss the number of homeless sex offenders in the nation, but in California there are about 65,000 registered sex offenders, of which 3,267 are homeless, according to California's Sex Offender Management Board.
It's not only costly and unfeasible to monitor sex offenders, but allowing them to remain homeless increases their stress levels and instability, Coombs said. It makes for a "really dangerous cocktail when it comes to public safety," he said.
Connecticut reviews GPS policy
Bill Carbone, executive director of the Court Support Services Division of Connecticut's Judicial Branch, said the state recently reviewed its use of GPS.
Connecticut, which monitors more than 2,000 offenders, revamped its GPS monitoring after acknowledging the technology had its shortcomings, including error messages, lost signals and susceptibility to manipulation, Carbone said.
Coombs and Carbone also note that charging the devices can be problematic when the offender has no home.
"To some extent, it's been oversold and misunderstood," Carbone said. "I think it is a tool -- not the sole tool -- needed for proper supervision of offenders."
Hager said she is pleased authorities were able to use Sanford's GPS bracelet to make a swift arrest in her niece's slaying, but it makes her angry that a homeless, convicted sex offender was allowed to hang out in a field frequented by children.

Licy's family may never know why she cut through the field, and many other questions about her murder may remain unanswered. Hager said her niece's accused killer should answer one of them.
"My daughters keep asking, 'Why did the angels take Licy? If we pray hard enough will they bring her back?' " Hager said. "I just want to tell him, 'You explain to my daughters what happened to their cousin.' "
E-mail to a friend

All About Vancouver (Washington) • Murder and Homicide