ORLANDO, Florida (CNN) -- A note written by the despondent grandfather of Caylee Anthony will be kept from public view for now, a Florida judge ruled on Thursday.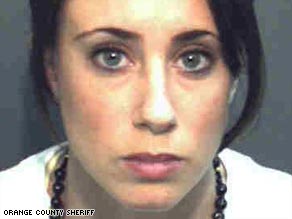 Casey Anthony is in court for pretrial motions in her Florida murder case.
Attorney Brad Conway argued that the note George Anthony wrote weeks after his granddaughter's remains were found should be kept private.
The note was found in Anthony's car in January. He wrote that he wanted to end his life and be with his granddaughter, Caylee.
Anthony's 22-year-old daughter, Casey, is accused of killing Caylee. Her murder trial is scheduled to begin on October 12.

Watch the Casey in court »
"This note is very personal in nature," Conway told Judge Stan Strickland, adding it had no bearing on the murder case. "Exposure would embarrass and annoy the Anthony family."
The judge agreed, ruling that it has little evidentiary value at this stage in the case and should not be made public. Conway represents Anthony's parents.
Keeping the note from the public eye was among several pre-trial motions being argued in court on Thursday. Most of the motions dealt with evidence the defense is demanding from prosecutors.
They included requests for access to crime scene evidence and a former boyfriend's computer hard drive as well as FBI notes on DNA analysis. They also unsuccessfully sought sanctions against prosecutors.
The defense argued that prosecutors withheld evidence, even though thousands of pages of reports already have been released. The judge urged the lawyers involved in the case to work harder at sharing information and evidence reports.
Casey Anthony faces seven counts, including first-degree murder. Caylee Anthony was reported missing in July -- a month after she was last seen.
The child's remains were found in December, stuffed in a laundry bag wrapped in a plastic trash bag left in woods near the Orlando home of her grandparents, George and Cindy Anthony. Her skull was wrapped in duct tape, according to police documents released in the case.
George and Cindy Anthony attended the hearing, taking a front row seat. Their 22-year-old daughter wore her hair pulled back in a ponytail and read legal documents at the defense table.

Police said they believe Caylee was killed in mid-June, and that her body was in the trunk of her mother's car for "a period of time," according to documents released in February.
A crime scene investigator was called to the witness stand as part of the discovery battle.
E-mail to a friend

All About Caylee Anthony • Casey Anthony