(CNN) -- A soldier has been charged by the military with involuntary manslaughter in the death of a 16-year-old girl who was found unconscious last month at an Army barracks at Fort Lewis, Washington, authorities said Tuesday.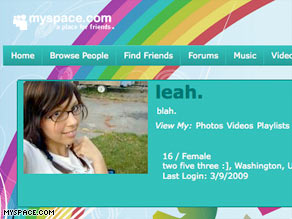 Leah King, shown here in her MySpace.com profile, died after being found unconscious in barracks at Fort Lewis.
Pvt. Timothy E. Bennitt, 19, also faces charges of distribution and use of controlled substances and conspiracy to wrongfully use controlled substances, authorities said.
Army investigators have said they suspected drugs had a role in the death of Leah King, who was found unconscious February 15 at Fort Lewis, near Tacoma, along with another teenage girl who survived. The two were visiting an acquaintance at the barracks.
Although Fort Lewis is not open for civilians to freely come and go, visitors can be escorted in by a soldier living there if they have identification and a reason for coming onto the facility. The circumstances of how the girls came onto the base are under investigation, officials said last month, but there was no evidence that security had been compromised.
The case prompted Fort Lewis officials to step up restrictions on visitors at the base, including more random vehicle checks and mandatory sign-in for underage visitors. Minors can be turned away if they don't have a "legitimate reason" to visit the base, the Army said in a statement.
Toxicology reports showed that King died from a lethal combination of Xanax, an anti-depressant; and Opana, a narcotic painkiller, according to the Army statement. Investigators say they believe some of the pills King consumed were crushed and snorted, overriding their time-release design.
Bennitt also is accused of dealing drugs -- including marijuana, in addition to the painkillers and anti-depressants -- to other soldiers at the base. Those allegations remain under investigation, the Army said.
The soldier will automatically be assigned military counsel and has the option of employing a civilian attorney, though it's not clear if he has done so, said Fort Lewis spokesman Joseph Kubistek. His military attorney did not immediately respond to CNN's request for comment Tuesday.
If convicted, Bennitt faces demotion, up to 82 years in prison and dishonorable discharge, the Army said.
About 30,000 military personnel are based at Fort Lewis. Barracks where soldiers live are usually split into rooms for one to three soldiers, Piek said. Details about the barracks where the girls where found were not released
E-mail to a friend

All About Fort Lewis • Puget Sound • U.S. Army • Tacoma