(CNN) -- The parents of a missing 5-year-old Florida girl pleaded Tuesday for her return, a month after she disappeared.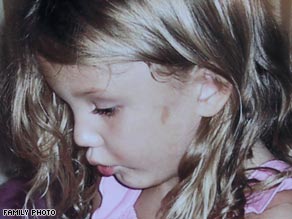 Haleigh Cummings, 5, was last seen as she was put to bed about 8 p.m. February 9.
The 30th day after Haleigh Cummings disappeared was marked with tearful pleas for her return, prayers and a song. Yellow balloons were released into the sky.
The reward offered for her safe return was increased to $35,000.
"Please, if you have my daughter, bring her home, please," said Ronald Cummings, the girls' father.
"All I want is Haleigh," he said at a news conference in Satsuma, Florida. "That's all I want."
The girl's mother, Crystal Sheffield, spoke through tears. "Haleigh, if you're out there, Mommy loves you and your Daddy loves you. We miss you."
She added, "Please, whoever has her bring her home, please. We need her."

Watch the family's pleas »
Police have said they think Haleigh was abducted but have provided few details of their investigation.
Ronald Cummings' girlfriend, Misty Croslin, said she tucked Haleigh and her 4-year-old brother into bed about 8 p.m. February 9.
She said she went to sleep herself about 10 p.m. but woke at 3 a.m. to find Haleigh missing and a back door propped open by bricks.

Tour the crime scene »
Ronald Cummings called police and reported his daughter missing when he returned from work at dawn.
Authorities have collected DNA samples from Cummings, Sheffield and Croslin, the Putnam County Sheriff's office said.
Putnam County Sheriff Jeff Hardy asked the family and public to be patient. "I ask this community to please have patience, bear with us. We're looking for that one lead and that one tip that it's going to take to bring Haleigh home," he said at the Tuesday news conference.

"I'm going to ask you to please be diligent, continue to search for this young lady, and to remain hopeful."
The Putnam County Sheriff's office says it has received more than 2,400 tips from across the country.
E-mail to a friend

All About Missing Children • Caylee Anthony